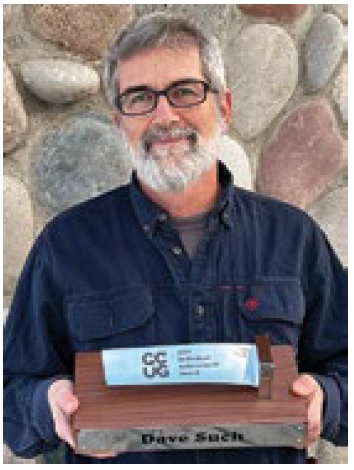 Xcel Energy's Dave Such was selected the lone recipient of the Combined Cycle Users Group's Individual Achievement Award (IAA) in 2022, the 26th person to be so honored (list below) since the award's inception in 2013. Voting is by members of the CCUG's steering committee, chaired by Phyllis Gassert of Talen Energy. Aaron Kitzmiller of Vistra Corp heads the subcommittee responsible for nominating award candidates.
Recall that the IAA recognizes individuals who have demonstrated excellence in the development, design, construction, management, operation, and/or maintenance of combined-cycle facilities throughout their careers.
The search for award candidates is ongoing. Readers are encouraged to nominate one or more individuals for the 2023 award before the June 2 deadline. The process: Complete and submit the nomination form posted on the CCUG website at www.powerusers.org. Refer questions to aaron.kitzmiller@vistracorp.com.
Dave Such has, throughout a 40-year industry career, unselfishly shared his deep technical expertise with the combined-cycle user community—especially that related to the operation and maintenance of GE 7F gas turbines. He has been involved with some of the original 7FA turbines from commissioning through full unit life extension—including one unit with more than 25 years of service and 180,000 fired hours.
Dave has gained a reputation for encouraging the industry to advance and pursue unique solutions to difficult problems. Example: He pioneered the use of third-party refurbishment and manufacturing of 7F turbine components at a time when the OEM was the only option. He also taught himself how to tune combustion systems and apply unique techniques to improve both engine operation and performance.
Most recently, Dave has been the technical lead for gas-turbine flexibility upgrades within Xcel Energy and has successfully installed some of the latest GE combustion and turbine hardware on several units—including DLN 2.6+ with axial fuel staging. The industry continues to benefit from Dave's passion for sharing this experience with others.
Additionally, he has been a great mentor to colleagues within Xcel Energy and has supported fellow owner/operators industry-wide by sharing turbine parts when they find themselves in a challenging situation.
Dave is currently a leader in the user community as a member of the 7F Users Group's steering committee, which he has been a part of for 15 years. He continues to share his experiences with others via insightful technical presentations at industry conferences, the next of which takes place next week in Atlanta (May 15-19).
In accepting his award, Such said, "Although this is an Individual Achievement Award, most of us realize that significant achievements in the power industry are group projects. The many user groups and conferences we have today promote collaboration and the sharing of knowledge that drives important accomplishments. I am very grateful for this particular recognition award, but also want to clarify that I am merely a product of being an active member of the community of power user groups for over 20 years. Regardless, I feel incredibly honored. Thank you very much."
Past recipients of the CCUG award

Robert Anderson, Competitive Power Resources
Rodger Anderson, DRS-Power Technology Inc
J Edward Barndt, Rockland Capital
Pierre D Boehler, NRG Technical Services
Harry Carbone, Duke Energy
Chuck Casey, Riverside Public Utilities
Andrew M Donaldson, PE, WorleyParsons
William J Gillis, ExxonMobil
Michael David Hoy, TVA
Wayne T Kawamoto, Corona Cogen
Robert Krowech, PE, HRST
Raymond Martens, Klamath Cogen and Peakers
Clyde Maughan, Maughan Engineering Consultants
Dr Robert Mayfield, Tenaska Westmoreland
Andrew McNeil, NV Energy
Patrick Myers, Ceredo Generating Station
William F O'Brien, IHI Power Services
John F D Peterson, BASF
Steve Royall, PG&E
Daniel C Sampson, WorleyParsons
Rick Shackelford, NAES Corp
Peter So, Calpine Corp
Paul M White, PE, Dominion Resources Services
William Wimperis, Constellation Energy (Exelon)

* Note that the company affiliations of past recipients may have changed over the years. Plus, some individuals have retired.