Vendor breakout presentations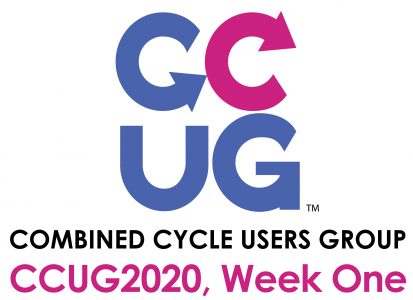 Defining and Implementing SCR Improvements on Gas Turbine Exhaust

Stringent regulations on NOx, CO, and ammonia slip are dictating the need for highly efficient SCR systems. Although CO and SCR catalyst designs are advancing to meet these new regulations, SCR system designs are not always equipped to manage the performance requirement improvements.
Industry veteran Bill Gretta, SVI Dynamics' SCR product-line director, understands. His company, he says, has incorporated years of knowledge and experience gained from work on SCRs manufactured by all of the major vendors into SVI's new SCR. If new is not optimal, SVI can provide in-depth analysis of your SCR to suggest enhancements that will improve reliability and efficiency.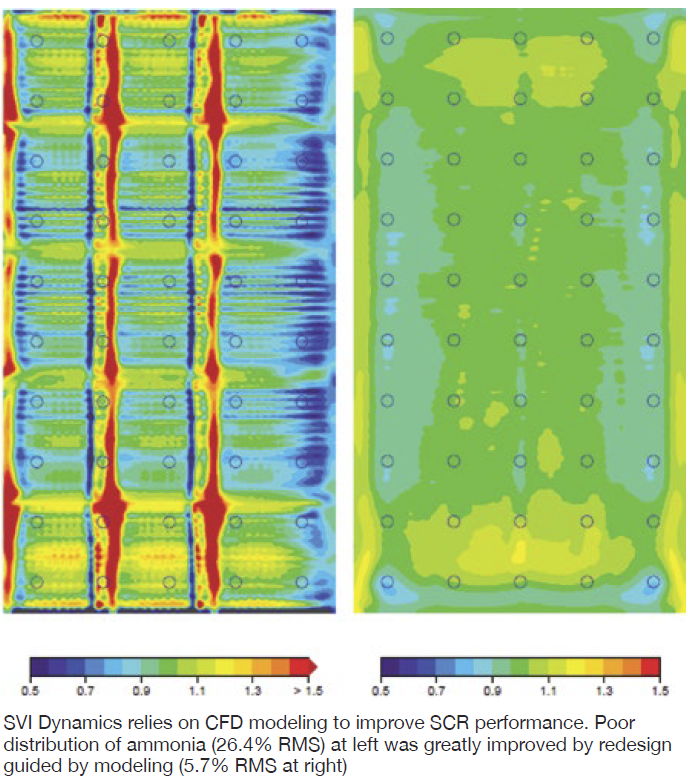 Part of Gretta's presentation illustrates the benefits of CFD modeling in guiding performance upgrades. He also explains how SVI would conduct a design review of your system and how to develop a PM inspection plan for your SCR.
How to Regain Significant Pressure Drop Utilizing Offline HRSG Impulse Cleaning (Access Presentation)
Vince Barreto and Carl Wise opened their presentation on gas-side cleaning of HRSG tube bundles with a review of the traditional alternatives—dry ice and "open detonation"—moving quickly to introduce Thompson's impulse (pulse detonation) cleaning system. They said the offline application of their proven technology has shown the potential for dramatic improvements in the cleaning of fouled HRSG tube surfaces.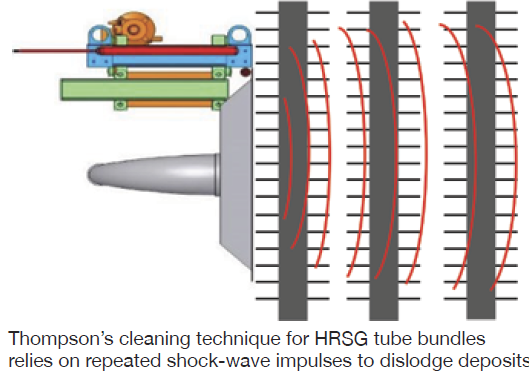 How it works: A cyclic combustion events creates supersonic impulses as illustrated in the accompanying figure. Injection of fuel and air into an integral mixing chamber followed by ignition and combustion creates a high-energy shock wave that dislodges deposits on the heat-transfer surface. Barreto and Wise said the highly compressed pressure front is followed by a low-pressure zone: The instantaneous pressure swing produces the cleaning energy. The system is operated at two impulses per second for a total burst of 80 to 120 impulses at each location as the business end of the device traverses the tube bundle on a rail.
Reduce Maintenance Concerns and Cost Associated with Gas-Turbine Fuel Control Valves
Jim Hoke, Parker's capital projects manager for power generation, provides users technical information on the company's line of electrohydraulic servo valves required for decision-making. The valves are approved by GE for use on its gas and steam turbines for the following applications: control of gas and liquid fuels, steam-valve actuators, inlet guide vanes, and stop/ratio actuators.
Key takeaways from the presentation include these:
Parker's "soft-fail" Abex electrohydraulic servo valves if plugged will not cause the downstream actuator to fully extend or retract—it will remain in place. However, the valve can be spring-biased to move the actuator to a preferred safe position.
The product is a drop-in replacement for many servo valves in use—including hydraulic mounting and electrical connections.
Large orifice diameters allow contaminants to pass through instead of obstructing flow.
Hydraulic spool, designed with a significant chip shear force, enables continued operation in hydraulic systems experiencing varnish buildup.
The robust design allows extended intervals between PMs, calibrations, and tests.
Solutions for Coupling-Bolt Issues, 501F 4-Way Joint Leaks, and Casing Tensioners (Access presentation)
Steve Busalacchi opened the presentation by explaining how his company's EZ Fit coupling bolts have eliminated the costly, time-consuming challenges presented by seizure-prone fitted coupling bolts during outages. He noted the downsides and risks of using conventional bolts for turbine/generator couplings and explained the principles of mechanical expansion bolts—what they are, how they work, and how they mitigate the problems associated with conventional bolts.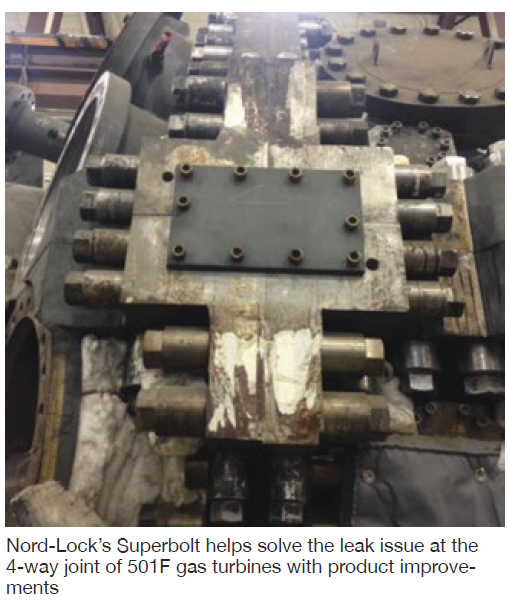 Features of the company's multi-jackbolt (MJT) tensioners for both horizontal and vertical joints were discussed next, followed by an overview of the 501F 4-way joint leak solution. The latter eliminates forced outages caused by leak-by damage to instrumentation and assures a safer environment inside the turbine enclosure. Installation of the 4-way joint solution takes the field-service crew performing the outage about three shifts to complete. Nord-Lock provides all necessary components and equipment as well as a qualified TFA.
Pitfalls to Avoid for Enhanced Liquid-Fuel-System Reliability

Schuyler McElrath, one of the electric-power industry's leading experts on liquid fuel systems for gas turbines, has new product development as one of his responsibilities at JASC Controls. His presentation simplifies the complexity inherent in liquid fuel systems and focuses on what design features owner/operators should be aware of to assure reliable starts on oil, reliable transfers from gas to oil, and vice versa, and reliable operation on both fuels. McElrath stresses that while some issues can be addressed with hardware upgrades, system infrastructure changes are an equally important part of the performance improvement process.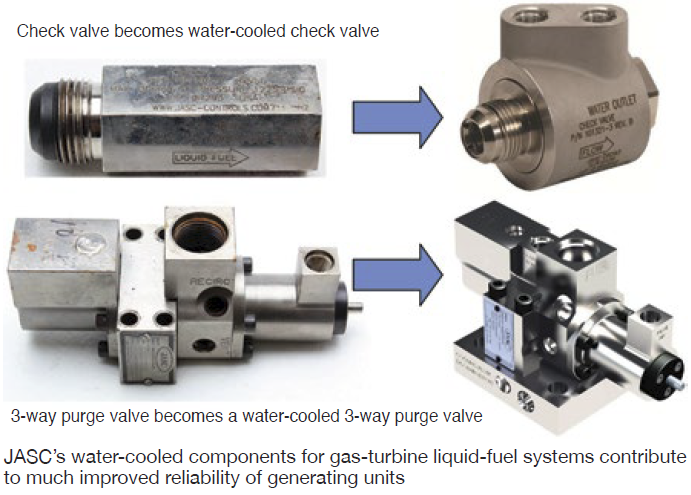 Diffuser Duct Liner Retrofit: Common Issues and Solutions for a Reliable System (Access presentation)
Scott Olson reviewed typical problems associated with diffuser-duct liners and HRST's proven methods, components, and tools for improving liner-system reliability. You can access Olson's presentation on the Power Users website or get the details from CCJ's article on the subject, based on HRST's experience.
Parker Hannifin Gas Turbine Filtration
Understanding Standardized Testing to Help in Filter Selection (Access presentation)
Paul Barron, North American regional sales manager, and Sales Manager Abby Rowe updated users on the company's line of inlet air filters and systems capable of superior performance over a wide range of environmental conditions. They reminded the owner/operators of the company's two popular brands of filtration products: Altair® and clearcurrent™. Parker's GT filtration options include the following: cartridge, vCell, pocket or panel filter. Complete gas-turbine inlet filtration systems, including evap coolers, also are offered.
The speakers reviewed traditional filtration standards (ASHRAE and the European EN) and compared product test results while explaining the differences between similarly rated filters.
Groome Industrial Services Group
Keys to Better AIG Tuning and Permanent Sampling Grid (Access presentation)
Steve Houghton focused on tuning of ammonia injection grids (AIG) and the value of installing a permanent sampling grid before diving into related case histories that included financial benefits.
A clean AIG is important to optimal tuning, he said. Verify that valves are in working order and that flow gages on the valves are functioning. Having a permanent sampling grid solves the issue of blocked sampling ports and allows for a complete traverse measurement. Additional benefits: Sample without need for a manlift or scaffolding; tune the AIG faster and more precisely. Break even on the installed cost after two or three uses.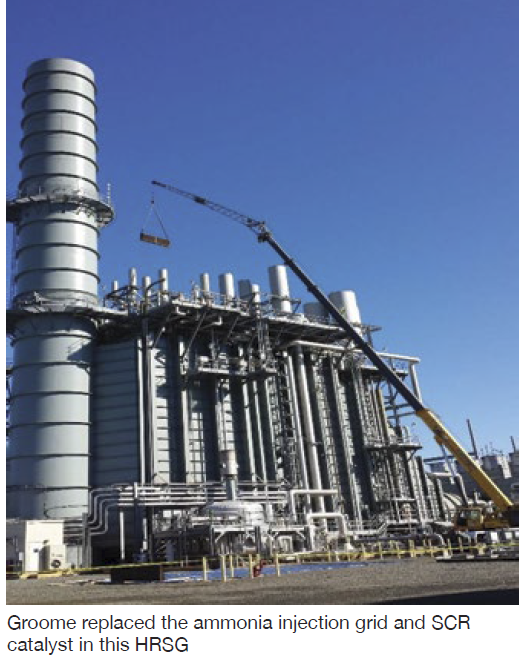 Case study 1: An AIG/SCR replacement project for a G-class combined cycle reduced ammonia consumption by 10% and cut ammonia slip in half. Case study 2: At an F-class combined cycle, Groome reduced ammonia consumption by 26% and reduced ammonia slip to 25% of the permit limit, saving $44,000 annually.
Winning Strategies for Managing NERC Regulatory Requirements
Certrec's presentation provides owner/operators the essential steps for NERC audit preparation and completion. It's important to prepare early for your audit, the speakers noted, and to be at the ready to achieve the desired outcome. Technology (think web-based solutions) can be your greatest resource, they continued, because it saves time and money.
The company's NERCSuite, a comprehensive compliance platform of web-based tools, was said to provide complete support of a plant's NERC compliance efforts, to reduce regulatory risk, and to minimize the overall cost of compliance programs.
Advanced Single-Layer Turbine Warming System (Access presentation)
Pierre Ansmann and Norm Gagnon covered the basics of steam-turbine warming for increased startup flexibility in their breakout presentation, which began by answering the question, "Why install a turbine warming system?" Highlights of their PowerPoint, available on the Power Users website, include the following:
Maintenance and operational benefits.
Differences in warming-system arrangements.
System durability and reliability.
Importance of proper insulation for a warming system.
Controls.
Cost and schedule of the initial installation.
Periodic maintenance plan.
In their review of alternative warming-system arrangements, the duo rejected those integrating heating circuits in insulation blankets, installing the heater on a thin mattress below the blanket, and using glass-fiber-insulated heating cable. The optimal system for the upper casing, they said, is a heater on a metal-mesh baffle; for the lower casing, permanent mounting of heating cable below the split line.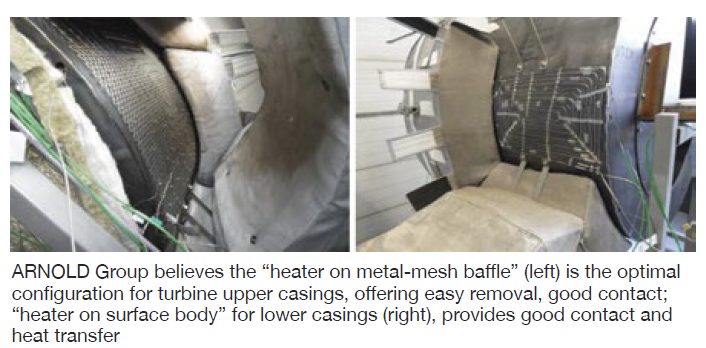 Ansmann and Gagnon explained that the ARNOLD system features interlocking high-performance blankets which conform perfectly to the turbine surface. High-quality materials and manufacturing, and long-term high-temperature resistance, allow the company to guarantee reuse of its insulation system for 15 outages without a decrease in efficiency.
More than five-dozen thermocouples, strategically located on the turbine, ensure proper heating. Each of the 18 or so heating zones has t/cs installed on the heating wires to double check if the zone is responding correctly and at the specified temperature. Below every heating zone, multiple t/cs are mounted on the casing to confirm even heating of the turbine.
The speakers said the ARNOLD warming system can maintain your turbine in a hot-start condition for at least four or five days after shutdown. No preheating of the turbine is required prior to a restart within this time period, reducing startup fuel consumption and auxiliary power.
Remote Monitoring of Lube Oil and Diesel Conditioning
Oil conditioners/kidney-loop filters are known for their ability to keep oil, and the machines relying on it, clean and healthy. In his presentation, Axel Wegner shows you how to keep lube and diesel oils in top condition; plus, how to receive alerts as soon as anything oil-related drifts out of spec—such as cooling-water temperature, excessive wear of machine parts, ISO particle count, etc.
Wegner's message is clear: The optimal condition-monitoring and filtration system for any machine and oil type allows you to identify problems remotely and to take action before they get out of control. This presentation is one you might want to consider sharing with your plant's O&M staff during a lunch-and-learn session.
The Changing Power Generation Market
Battery Energy Storage Systems
Galen George addressed a round-robin of options for achieving flexibility when a combined-cycle plant's load curve shifts because of renewable energy coming online in the market or service territory. Siemens' Jim Badgerow supplemented the discussion by illustrating how battery energy storage systems can work with traditional GT plants.