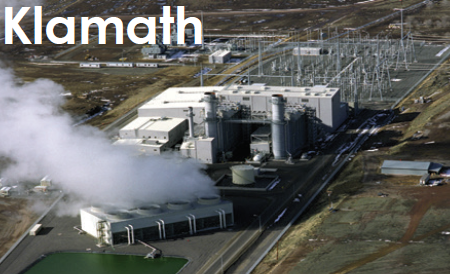 TransCanada, Klamath Energy's fuel-gas supplier, installed its control, filtering, and metering station at the plant fence. The piping network on plant property, serving the gas turbines, auxiliary boiler, and plant heaters, was buried, and expensive to inspect.
Buried gas lines serving the facility's 501F-powered 2 × 1 combined cycle had to be inspected every five years. Cost was $400,000 per inspection—including rental launchers, rental receivers, inspection equipment, labor, restoration, and cleanup. Additionally, a site outage of 10 days was necessary to conduct the required inspection.
Plant management (Dennis Winn, plant manager; Greg Dolezal, maintenance manager; and Bruce Willard, operations and engineering manager) engaged an Oregon firm to help with the engineering aspects of a project to consider the design, seismic, routing, and structures for moving fuel-gas piping above-ground. With the firm's assistance, plant personnel developed a scope of work with the required bill of materials. Responsibilities for the project were split: Klamath personnel purchased all pressure components and ensured that the pipe and material test reports were correct while the contractor selected and provided support structures and their materials.
Metallurgy. Engineering review of the project identified a problem with using standard A106 grade B pipe. There was a risk of brittle fracture because of the material's insufficient manganese-to-carbon ratio for cold-temperature service. The typical fuel-gas temperature at Klamath is less than 40F.
An article in the National Certified Pipe Welding Bureau's May 2016 Technical Bulletin, discussing developments in the steel-making industry over the previous five years, suggested that purchase orders for seamless carbon-steel pipe, fittings, and flanges specify a manganese-to-carbon ratio of 5:1 or greater, and a grain size of 7 or finer, to avoid failures. Klamath elected to adhere to a manganese-to-carbon ratio greater than 5:1 as a requirement for all of its steel pipe, fittings, and flanges.
Above-ground fuel-gas piping. After developing a scope, construction contractors were contacted, and the scope of work was publicized for solicitation. Bids were received and the construction company was awarded.
The road crossing was a main concern given the potential of something striking the overhead piping. A pair of W12X30 beams was installed on both sides of the piping, with the piping set well inside the protective structure (photo). The bottom elevation of the wide-flange beams has a clearance of 19.5 ft.
Additionally, valving was installed on the piping so nitrogen purges could be executed during times when fuel-gas outages dictated such use on the 10-, 4-, and 1.5-in. piping.