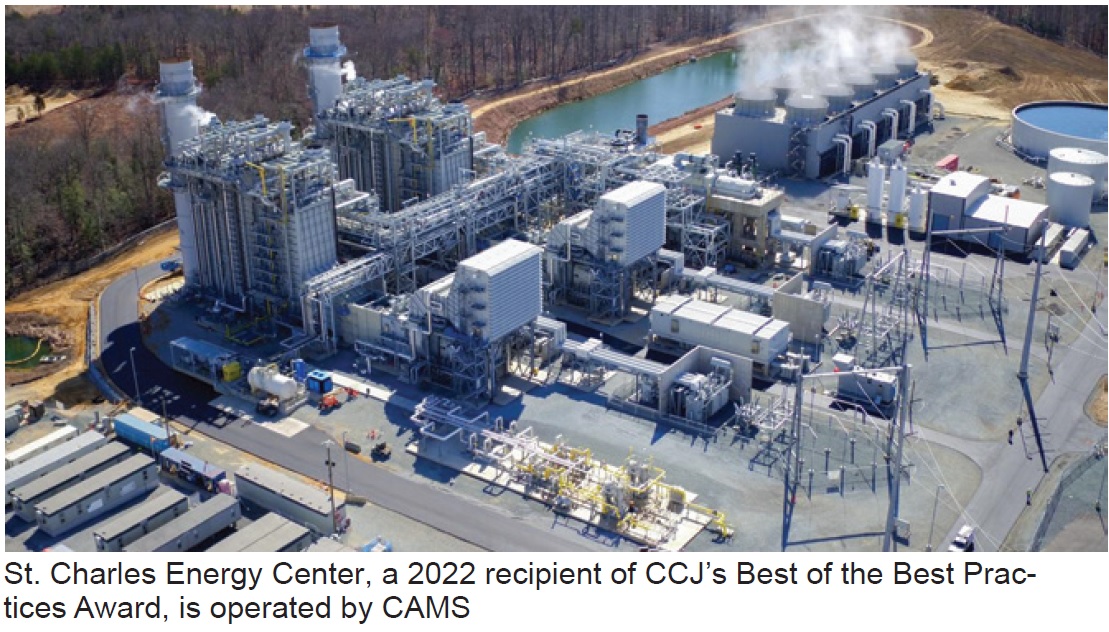 Consolidated Asset Management Services (CAMS), one of the electric-power industry's leading integrated services firms offering comprehensive asset management, O&M, financial services, and compliance and consulting solutions, shares its considerable experience with those considering a unit purchase in "8-pitfalls to Avoid When Buying a Power Generation Asset," available online at no cost.
Evidence of CAMS' accomplishments includes the company's success in CCJ's annual Best Practices Awards program. Over the last decade, the nominal hundred generating units in its portfolio (totaling about 40 GW of capacity) have earned more than 75 awards—including the Best of the Best citation in 2022 to St. Charles Energy Center, which it operates for Competitive Power Ventures.
The authors of "8-pitfalls" note in their introduction that "evaluating a power asset becomes increasingly difficult without a sound understanding of power operations and fundamental asset-management optimization capabilities." Highlights of the guidance document include the recommendations summarized below.
Engage an independent engineer to conduct an unbiased assessment of the asset, as required by lenders for their underwriting of the potential acquisition. But because this report may be generic in nature, focusing on the general commercial viability of the project (for example, compliance with permits), the prospective buyer is encouraged to dig deeper into plant specifics—including O&M history.
The authors suggest having an O&M partner throughout all phases of the acquisition process. "Working with an O&M provider to assess a facility's O&M needs will create a realistic, actionable game plan for the future. With this approach there are fewer surprises and the buyer has a solid foundation to optimize."
Account for existing corporate support and its replacement cost. If the generating unit of interest is included in a portfolio of assets, beware the possibility that costly corporate support services may not be included in the seller's model. Example: The cost of regulatory support to assure compliance with NERC and other requirements. The seller may make generic assumptions as to the cost of providing these services in its model, but such simplifications can leave the potential buyer with unbudgeted costs after the generating unit is acquired.
Develop a custom O&M budget for the facility of interest. Avoid the temptation of "adjusting" the plant's existing budget: Build a realistic operating budget from the ground up by having experienced personnel review each line item.
Additional revenue opportunities. While the custom O&M budget will help control the expense side of the operating statement, the buyer should consider investigating the potential for additional revenue opportunities to further increase profitability. A few areas to consider:
Is the plant capturing its full value in the marketplace? Look into electrical interconnections and corresponding agreements to be sure they are consistent with the actual capability of the facility.
Is the area on which the plant is built fully utilized? If not, can the excess be sold?
Is there unused inventory that can be liquidated?
Evaluate plant personnel. During site visits, discussions with plant staff can be informative and provide insights into operational and plant issues that might not be identified otherwise. While sellers typically do not want to give prospective buyers access to plant staff, they should insist on it. One outcome of personnel due diligence is an optimal staffing plan to ensure safe, reliable operation based on current and future requirements.
Property tax evaluation. A powerplant typically is a significant revenue resource for the local taxing authority. Given the many special tax abatements and other grants that could apply to the taxable value, it is in your best interest to validate the assessment and explore ways to improve asset value.
IT requirements. Powerplants require extensive IT connections and equipment. Plus, cybersecurity requirements, telemetry, systems control, emissions, fuel monitoring, RTO/ISO communications, and software licenses all must be accounted for. A comprehensive audit of inherited systems and devices is important. One reason is that it's typical for a seller to not upgrade aging equipment when a facility is for sale. An IT audit can identify unforeseen security and reliability issues while contributing to the development of a good IT process for the facility.
Support after the sale. Acquiring a power-generation asset is a team effort that takes many months of hard work. But keep in mind that realizing the full potential of your investment takes another team of experts with the capability to optimize all aspects of the resource and the marketplace.