If you didn't know Steve Bates, who died suddenly November 30 (2022), at age 57, while on vacation with family, be assured it was a privilege. The plant manager of Vistra Corp's Wise County 2 × 1 G-class combined cycle in Poolville, Tex, and chairman of the 501G Users Group, Steve was a technically competent, respectful, and unflappable leader who never passed on an opportunity to help a colleague.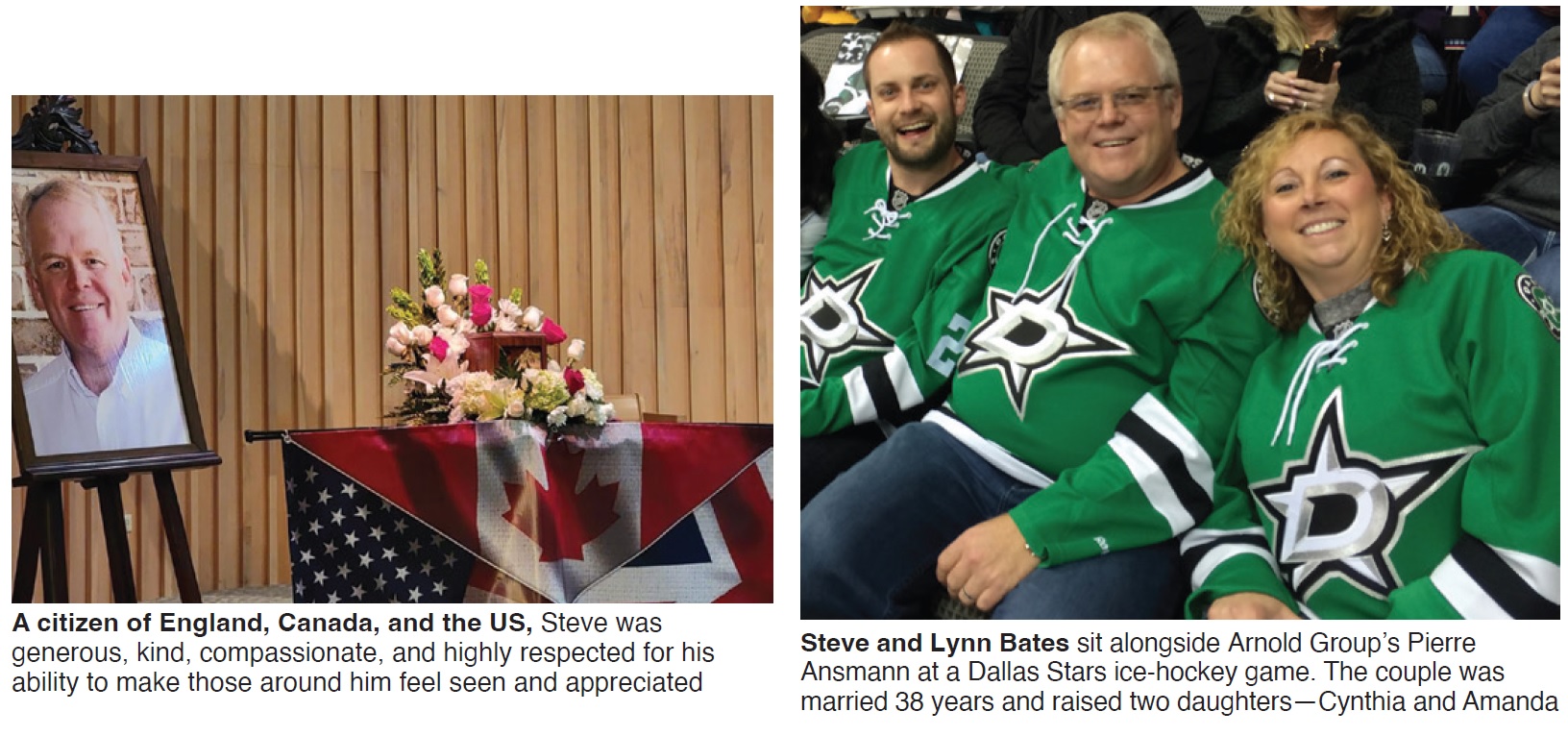 He was a big supporter of CCJ's mission and an industry luminary who viewed personnel safety as a top priority long before many others. Example: Most recently, and with his company's support, Steve alerted powerplant owner/operators to the potential for leakage by fuel-gas-heater stop valves and the possibility of an explosive mixture of fuel and air forming in the condenser.
He presented on this possibility at every opportunity—including meetings of the Combined Cycle Users Group, HRSG Forum, and other industry organizations.
In a world that's prone to short-circuit discussions of findings in accident investigations, Steve was committed to sharing such knowledge to protect powerplant personnel and the public at large; no corners were cut on his watch. Interestingly, he did everything by the book and it didn't take longer than not.
Some of the people who knew Steve best share their thoughts below.
Steve was such a nice guy. When I heard the coroner revealed that Steve had a large heart, I laughed—as it wasn't surprising. Everyone knew Steve had a large heart. You knew it from every interaction you had with him. Steve cared! He cared a lot!
Steve cared about me and my family, he cared about my plant and my team, and he cared about my turbine. He cared about all of our turbines! For more than 10 years Steve selflessly led the 501G Users Group, painstakingly tracking and working diligently to manage a multitude of issues to resolution. Steve was a great listener and worked hard to ensure our voices were heard and our issues were brought forward.
It was a joy to watch Steve wrestle with Siemens. His intimate knowledge and understanding of the 501G, his tenacious grasp of current issues, along with his calm demeanor and good humor made him a formidable foe in any debate or discussion. Steve would hang on to an issue like a pit bull, unwilling to let go until Siemens understood and acknowledged his viewpoint. The drama of watching/waiting for his opponent to capitulate was always entertaining. Steve fought for all of us, because he cared, he cared a lot.
After a tumultuous start to 2022 [the Texas deep freeze], Steve turned his focus to Human Performance and the influence it can have both in our success and in the adversity we face. By allowing the 501G users access and insight into a significant event at his plant, and specifically how human interaction influenced several contributing causes, he gave us an understanding of why it is important that we improve our understanding of Human Performance and strive to integrate human-performance tools and processes into our daily lives.
Again, Steve did this because he cared. He cared a lot. His caring and support will be profoundly missed.
Mark Winne
I am privileged to have worked for Steve for over 14 years. He was a great mentor and friend. Steve showed me the ropes and gave me the tools to be a successful manager. He had a wonderful personality and was deeply engaged with every team member at the plant. Steve's dedication, knowledge, kindness, and loyalty to the team was key in developing a great culture and family atmosphere at Wise County.
I loved being able to walk in Steve's office, sit down, and brainstorm ideas to improve plant performance, or even to just share thoughts on recent events. Everyone at the plant has a deep void with the loss of Steve and we will never forget all that he brought to each of our lives. He will be forever in our hearts.
Michael Coffman
I met Steve many years ago through the 501G Users Group. As Chairman for more than 10 years, Steve was very approachable and inviting for anyone to participate. He provided strong leadership for our group with his industry knowledge, and his ability to establish great relationships with all 501G frame owners, vendors, and Siemens. Steve was an open book, always willing to share for anyone who wanted to learn more. He was professional and had a great moral compass. I did not work with Steve as closely as those who interfaced with him on a daily basis; however, he has left quite an impression on me. Steve will be greatly missed.
                                                                                                            Kevin B Robinson
Whether on a fishing boat or in the corporate boardroom, you knew that friendly smile and outgoing personality were always going to be there to greet you. I met Steven Bates while working as a contractor in Arkansas. He was managing the Tractabel facility just outside of Malvern and had a small job for us to do that turned into a very big job and eventually me going to work for him full time—an invitation I always will be grateful for.
Steven was a study of many things and always on top of recent activities, not only in the power business, but anything that piqued his interest. Steven's leadership with the 501G Users Group is one of the reasons why the G frame has been so successful. He always brought the skills of team-building and inclusion to the table, and doing so with the Siemens team, made our user group's effort a great environment as well as very productive. We were able to work together to solve many problems in this frame as it was being developed.
Steven was a tri-citizen of the world. Born in England, he moved to Canada and then to the United States; he had citizenship in all three countries. I was working with Steven as he studied for his US citizenship test, learning a few things myself in that process. He and wife Lynn worked hard, passed the test, and were awarded citizenship. Flags of the three countries draped the table displaying the urn with Steven's ashes (photo).
But above all, Steven's relationship with his god, wife, children, and grandchildren were always something to aspire to, and as in many other things, Steven led by example in all of these areas. Our industry will miss Steven Bates; I will miss him for his friendship and camaraderie.
Neal Coffey
Having known Steve for the past dozen or so years and working directly with him on the 501G Users Group steering committee for the last decade, words cannot describe the personal and professional loss that we are all feeling. Steve was always willing to help and share his knowledge and experience with anyone needing it. As the committee chair, he worked tirelessly to promote a culture of respect, openness, and integrity among users, vendors, and OEMs.
Although Steve will be missed by all, his legacy will live on through the memories, accomplishments, and friendships made throughout the years. I will personally miss his friendship and camaraderie, in addition to all of the other outstanding character traits that made him the person he was.
John R Wolff
Steve Bates was an exceptional person who will be dearly missed by the Vistra family and the 501G Users Group. He became chairman of the 501G steering committee in 2011 and has provided years of dedicated service. Steve's leadership on the committee was what drove the 501G users to become a very close-knit family that was well informed of all the issues we were dealing with on the G frame. When I think of Steve, I see a family man, a leader, a communicator, a friend, and a mentor that I will miss.
Scott Wiley
Many years ago, while attending my first 501F and 501G Users Group conferences, I noticed a few guys sitting off to the side of the podium and, based on their looks and my read on their demeanor, I was quickly wondering what I had gotten myself into. One of them was someone I worked with, Pete Sobieski, but the vibes the other two gave off was scary. Turns out they were Mark Winne and Steve Bates, and oh how wrong my read was.
Fast forward almost two decades and I dare say I was barely tapping into the deep well that was Steve Bates. While the last few years have been filled with uncertainty, loss, and changes to the status quo, I consider myself privileged to have grown closer to Steve and wife Lynn during that time.
I feel very fortunate to have vivid memories of what turned out to be our last in-person evening together at Dezerland. Steve, Lynn, myself, and a few others were enjoying some beverages and desert and Steve was laughing harder than I had ever seen. Turns out he found the idea of me on a little Vespa hilarious. That was a wonderful evening and I will always have that memory of him happy and jovial.
Over the last year, the 501G Users Group, which Steve was chairing, got very involved in working with us on the upcoming conference and in that light Steve had just finished working with a Human Performance organization and you could tell it had really kindled a flame for him. He was so excited he brought it to the Boards of both user groups and we decided to include it in the upcoming conference.
Steve was a man of commitment, honor, and grace. His passion for what we do, and how we do it, was awesome to see after such a distinguished career, when some folks are just riding the wave. Steve was full-steam-ahead and just as passionate before his vacation as he was when I met him all those many years ago.
I will miss his unassuming nature, the roles that he filled so well, and the counsel he offered. More importantly, I will miss the person that he was. The author, A A Milne (Winnie the Pooh) summed up so much in the following sentence: "How lucky am I to have something that makes saying goodbye so hard." I offer, in closing, that all of us who knew and worked with Steve were indeed lucky.
Ivan Kush
I still don't know what to say. When I heard the news, the first thing I thought was that we still owed Steve a lube-oil pump that we had borrowed.
When we were at the 501G Users Group meeting in Orlando this past May, I ended up in the hospital. Steve called and wanted to come spend time with me so I wouldn't be alone. He then reached out to ensure I made it home, and reached out again a few days later to see how I was doing.
Steve was one of the most genuine people I have ever met. He had a very calming way about him and no matter what subject I called to discuss, I always came away with a completely different perspective. Knowing and working with Steve has made me a much better person, and I will forever miss him.
Steve Cole
Steve Bates was my friend and a role model for more than 10 years. Steve's passing it hit me really hard because only a few hours earlier I was commenting on his Facebook post about spending holiday time in Hawaii.
As plant manager, Steve was at all times very knowledgeable, calm, and relaxed. He always had a smile on his face—even during the toughest negotiations. I visited him at Wise County annually and spent quality time with Steve at the many turbine conferences we both attended. He was highly respected in the industry, inspiring, and a caring person who always put family and friends first.
Pierre Ansmann
Leading a user group is no small task: There are many aspects of that role most don't see. Being a good leader takes a lot of knowledge, pro­fessionalism, interpersonal skills, and tact. Steve Bates was a great leader and helped build a solid framework for cooperation and engagement that helped solve many concerns for the W501G fleet that has benefited both the users and Siemens Energy.
I had the privilege of working with Steve and truly believe we would not have been as successful without his involvement. When we first met, the fleet really needed attention and a dif­ferent approach to tackle some of the tough challenges present in the fleet. He helped pioneer a new way of work­ing with Siemens Energy, and while holding us accountable, was fair in his approach and used his collaboration skills to bring both sides together for the benefit of the fleet.
His engagement allowed us to amplify our interface with better ways to communicate and resolve some of the toughest issues facing the frame. For a period of time, we executed four face-to-face customer meetings annu­ally—including "deep dive" technical meetings as well as monthly net meet­ings to help everyone stay on top of the rapid pace of development of solutions.
Steve helped bring the customers together and was instrumental in creating an atmosphere of cooperation and inclusion that was key to solving some of the most difficult tasks. He was firm and truthful, but also open­minded and accepting of others' inputs and ideas. This leadership made him stand out in the crowd and brought us all together. We are all better today because of the way Steve facilitated positive engagement while building solid working partnerships and friend­ships. God bless Steve Bates.
Mark Carter, SGT6-6000G product manager