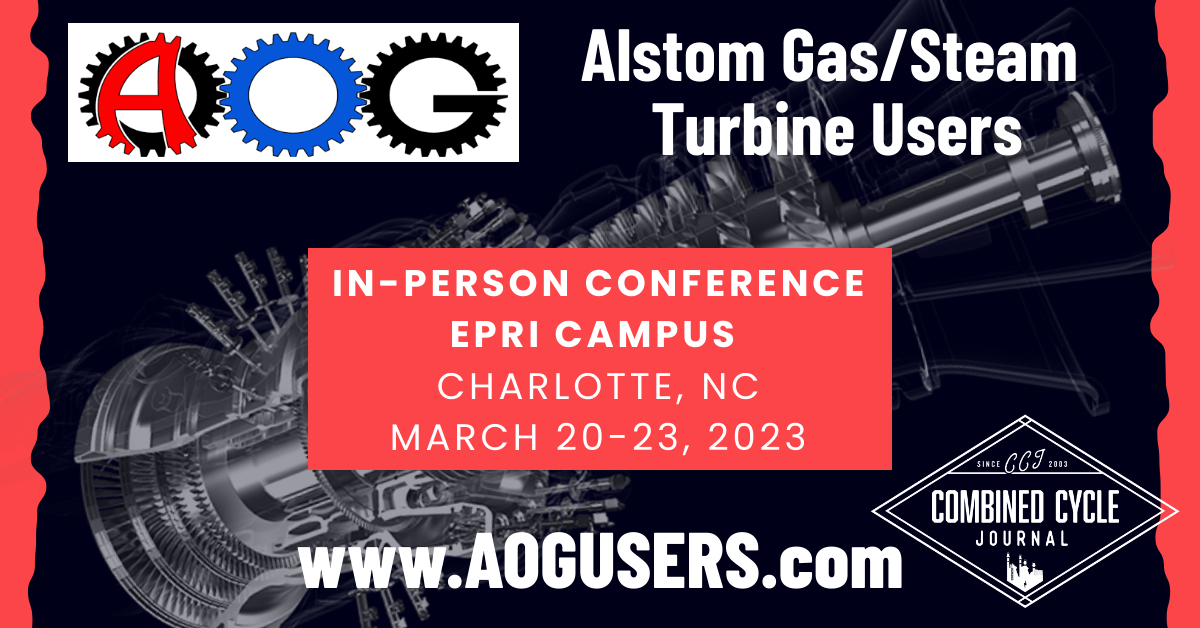 The following presentation recaps focus on Alstom generators from third-party solutions providers at the 2022 AOG virtual conference. Recordings and/or slide decks of all presentations made available to the steering committee can be accessed through the group's website by registered users. AOG looks forward to welcoming the industry to its sixth annual meeting, March 20-24, at EPRI's corporate offices and training facility in Charlotte, NC. This will be the organization's first in-person conference since 2020. A preliminary 2023 conference agenda is posted at www.aogusers.com, where you'll also find registration, lodging, and other pertinent information. Contact ashley@aogusers.com with any questions.
AGT Services Inc
Alstom WX/WY-21 series air-cooled phase cracking
Jamie Clark, well known to users because of his frequent presentations at user-group meetings presented the case history of an Alstom 60WX-21Z-085 machine that was modified by the OEM in 2016 to prevent phase-jumper connector failures. This generator is relatively common, Clark said, and the information presented is applicable to several other models as well.
The subject air-cooled, 18-kV generator is rated 188 MVA with 0.85 power factor and Class F Micadur® (GVPI stator). Clark began by reviewing the root causes of stator braze connection issues: Poorly designed/executed joint, vibration attributed to 1/rev and 2/rev frequency drivers, a poor endwinding support system (one that either permits excessive vibration or provides too much restraint), and increasing thermal stress.
The challenges facing owner/operators responding to the OEM's recommendations in its bulletin on phase lug cracking can be formidable. Recall that there are thousands of brazes in a generator—all done manually and then insulated manually.
Visual inspection is virtually impossible in some cases given joint location. Plus, even if the field is removed and the joints are accessible, you can't see them unless the insulation is removed. Radiography is an alternative, but that has its own challenges, personnel safety among them. UT and use of a thermal-vision camera may be your best option to identify poor braze quality and cracking before a failure occurs. Clark shows how this is accomplished by way of superior illustrations and explanation in the recorded presentation.
It's important to avoid a failure, especially given the GVPI stator which is very difficult to rewind. Remember, too, a failure typically generates carbon and copper byproducts from the burning that occurs and they are ingested by the fan and distributed throughout the unit. The field is affected, of course. Likely, rings will have to be removed and the rotor rewound.
However, those are not your only concerns. The redesigned joints add mass, changing the resonant frequency of the endwinding support system. Expect that de-tuning also will be required.
Generatortech Inc
Generator rotor winding shorted-turn detection: Flux-probe theory and case studies
David Albright's conclusions suggest what you can expect to learn from his presentation. They are:
Shorted turns in field windings occur frequently. While not a big issue in many cases, they can be a serious and expensive problem.
Online testing is critical because offline tests will miss speed- and temperature-dependent turn shorts.
Testing over a full range of loads is critical to identify all true turn shorts and eliminate all false turn shorts.
Installing flux probes during outages can save time and money on future generator maintenance decisions.
Albright explains turn-to-turn (and coil-to-coil) shorts with good illustrations and provides photos of typical damage. Beware the vicious cycle of turn short development, he warns, explaining that each turn short creates higher temperatures that increase the likelihood of new turn-short development, possibly leading to rapid insulation degradation. Example given: Rapid degradation of a rotor winding for a 680-MW generator caused an increase in turn shorts from two to 10 in 18 months. Several two-pole rotor case studies enhance the learning experience.