The COMBINED CYCLE Journal and the steering committees of the industry's leading users groups—including 7F, 501F, 501G, 7EA, 7/9HA, Western Turbine, CCUG, STUG, GUG, PPCUG, Frame 6B, Frame 5, 501D5-D5A, AOG, and V—collaborate to expand the sharing of best practices and lessons learned among owner/operators of large frame and aeroderivative gas turbines.
Thirty-eight plants listed below participated in the 2023 Best Practices Awards program with six selected by industry experts for Best of the Best honors. Details of the Best Practices submitted will be published in future issues.
CCJ launched the industry-wide Best Practices Awards program in late 2004. Its primary objective, says General Manager Scott Schwieger, is recognition of the valuable contributions made by plant and central-office personnel to improve the safety and performance of generating facilities powered by gas turbines.
Industry focus today on safety, outage management, and performance improvement—including starting reliability, fast starting, thermal performance, emissions reduction, and forced-outage reduction—is reflected in the lineup of proven solutions submitted this year.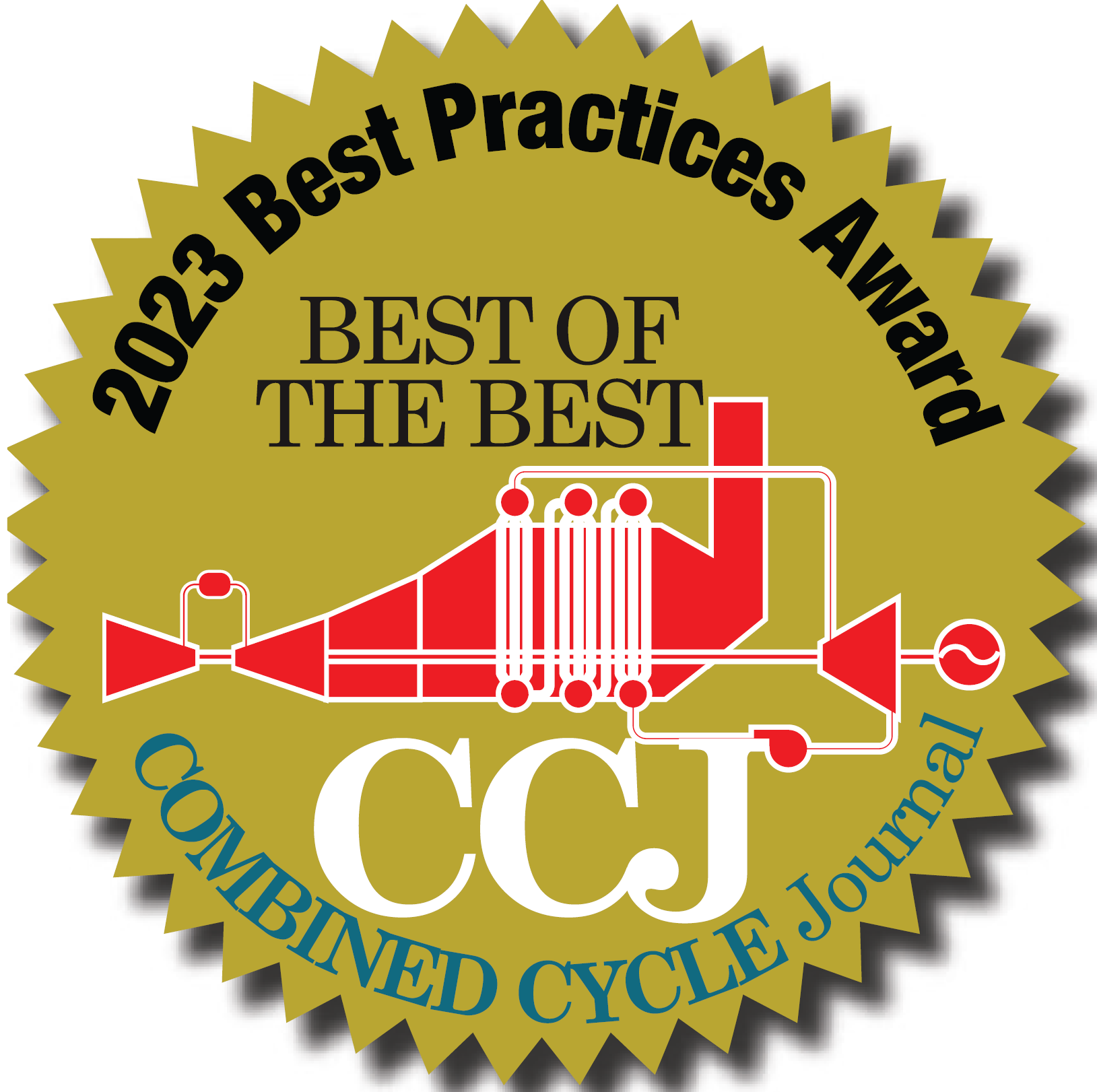 2023 BEST OF THE BEST
Amman East Power Plant
Owned by AES Corp, Mitsui, and Neberas Power
Operated by AES Corp
FAC encourages replacement of LP evaporator
Overhead-crane lift safer with load display
ACC washing system changes promote safer operation, improved performance
Admin building HVAC operational improvement
Broad River Energy Center
Onward Energy
Rigorous planning significantly improves outage results
H O Clarke, Topaz, and Braes Bayou
Owned by WattBridge
Operated by ProEnergy
Modeling for successful proactive remote monitoring and diagnostics
Seasonal shelters protect plant equipment in winter
Roving work crews effectively support small onsite staffs
Exira Station
Owned by Western Minnesota Municipal Power Agency
Operated by Missouri River Energy Services
Freeze-protection improvements assure high availability, reliable starts in winter
River Road Generating Plant
Owned by Clark Public Utilities
Operated by General Electric Gas Power
HP steam drum leak repairs
'Operator in Training' program proves its value
Operators receive reverse-osmosis specialist certification
Racks simplify diaphragm handling, transport
Ventanilla Combined Cycle
ENEL Generacíon Perú
Transformer monitoring in real time ensures reliable operation, improves safety
HRSG tube cleaning restores lost performance
Improved cooling tower water chemistry yields significant savings, environmental benefits
Cooling tower upgrade enhances personnel safety, improves performance
2023 BEST PRACTICES FACILITES
AES Alamitos Energy and AES Huntington Beach Energy
Owned by AES Southland
Operated by AES Corp
AES Levant Peaker Power Plant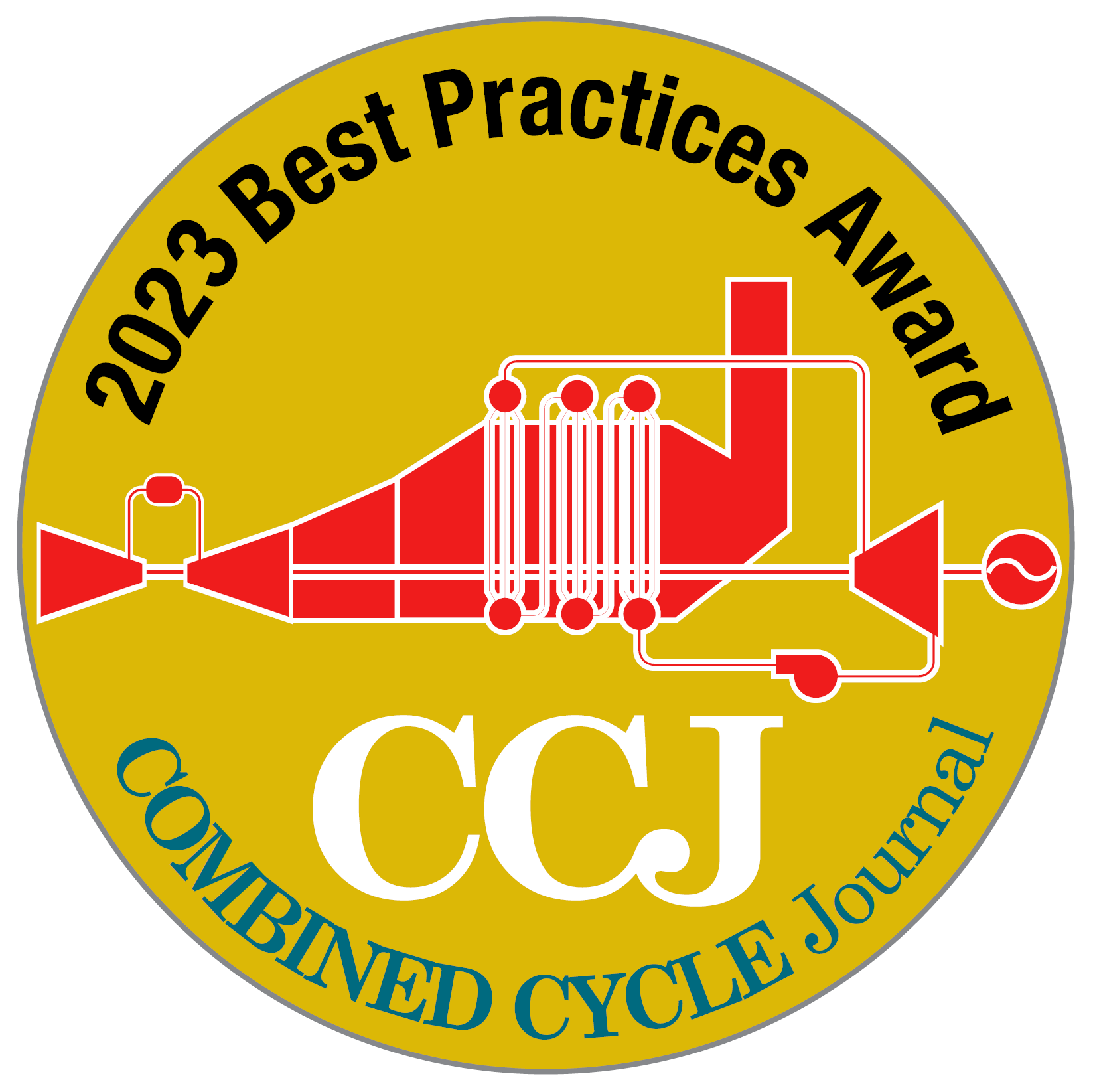 Owned by AES Corp, Mitsui, and Neberas Power
Operated by AES Corp
Athens Generating Plant
Owned by Kelson Energy
Operated by NAES Corp
Cape Canaveral Next Generation Clean Energy Center
Florida Power & Light
CC NORTE III
Owned by Abeinsa
Operated by NAES Corp
CPV Towantic Energy Center
Owned by Competitive Power Ventures
Operated by NAES Corp
CPV Valley Energy Center
Owned by Competitive Power Ventures and Diamond Generating Corp
Operated by DGC Operations LLC
Energía Del Valle de México II (EVM II)
Owned by Energia del Valle de Mexico Generador SAPI de CV
Operated by NAES
Essential Power Newington LLC
Owned by Essential Power Investments LLC
Operated by Operated by Cogentrix Energy Power Mgt
Fairview Energy Center
Owned by Osaka Gas USA, DLE, and Competitive Power Ventures
Operated by NAES
Faribault Energy Park
Owned by Minnesota Municipal Power Agency
Operated by NAES
Hunterstown Generating Station
Owned by Platinum Equity LLC
Managed by Competitive Power Ventures
Operated by NAES Corp
Jackson Generation
Owned by J-Power USA
Operated by NAES
Kings Mountain Energy Center
Owned by Carolina Power Partners LLC
Managed by CAMS
Operated by NAES
Kleen Energy Systems LLC
Owned by EIF Kleen, LLC
Operated by NAES
Lawrence County Generation Station
Owned by Hoosier Energy, REM, and Wabash Valley Power Assn
Operated by NAES Corp
Lee County Generating Station
Owned by Rockland Capital
Operated by NAES Corp
Linden Cogen
Owned by JERA Co, EGCO Group, Development Bank of Japan, and GS-Platform
Operated by NAES Corp
Mariposa Energy Project
Owned by Diamond Generating Corp
Operated by DGC Operations LLC
Milford Power
Owned by Starwood Energy Group Global and JERA Co
Operated by NAES Corp
Quail Run Energy Center
Owned by Starwood Energy Group Global
Operated by NAES Corp
REO Cogeneration Plant
Lansing Board of Water & Light
Rolling Hills Generating
Owned by LS Power
Operated by PIC Group
St. Charles Energy Center
Owned by Competitive Power Ventures
Operated by CAMS
Sentinel Energy Center
Owned by Diamond Generating Corp, Partners Group, and Voltage Finance LLC
Operated by DGC Operations LLC
Plant Wansley Combined Cycle
Southern Company
Wildflower Indigo Generation LLC
Owned by indirect affiliates of Diamond Generating LLC
Operated by DGC Operations LLC
Managed by DGC Asset Management LLC
Wildflower Larkspur Energy LLC
Owned by indirect affiliates of Diamond Generating LLC
Operated by DGC Operations LLC
Managed by DGC Asset Management LLC
Worthington Generation Station
Owned by Hoosier Energy
Operated by NAES Corp