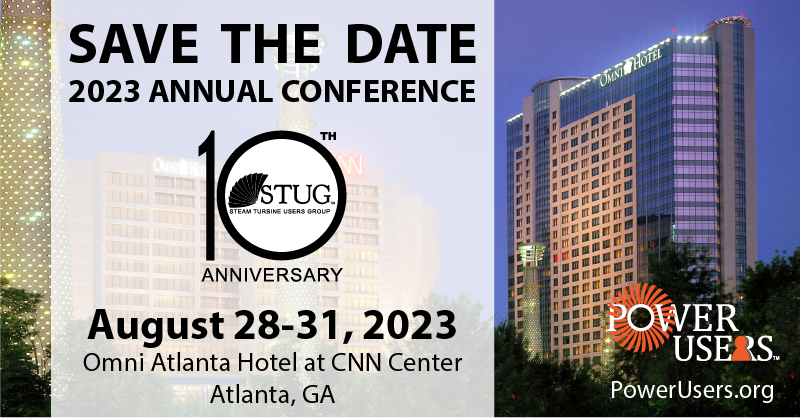 Time flies. It seems like only yesterday that the Steam Turbine Users Group was formed by representatives of nine electric power producers. But that occurred in 2013. Five of those nine still serve on the steering committee—including Jay Hoffman and Jake English who were elected the first chairman and vice chairman, respectively. Interesting too, is that in an industry where personnel switch employers relatively frequently only one committee member is at a different company than he was in 2013.
That's stability, and one important reason STUG meetings are so valuable to steam-turbine owners and operators industry-wide. The committee members who plan the annual conference programs and lead the discussions have deep knowledge of the installed equipment and how it has performed over the years.
To illustrate: Consider the valuable insights provided by the three presentations below available in the STUG conference archives on the Power Users website:
Improving Steam-Turbine-Major Outage Efficiencies by leveraging experience shared by colleagues on lessons learned, outage scope and duration, etc.
L-0/L-1 Inspection Findings and Lessons Learned for Operation and Future Maintenance Planning offers invaluable guidance on two turbine stages of great concern to many users.
Vendor Shop/Field Considerations for Future Maintenance Planning to Avoid QA/QC Issues. The advice shared is of value to virtually everyone with steam-turbine responsibilities.
STUG's upcoming 10th Anniversary meeting (August 28-31 at the Omni Atlanta Hotel at CNN) offers compelling presentations/discussions for those responsible for improving the reliability, availability, and performance of their plant's steam turbines. Here's a peek at the hot topics that likely will be included on this year's program:
How best to deal with stop-valve stem erosion on GE combined-cycle steam turbines. The planned multi-utility panel discussion is expected to cover OEM originals versus OEM upgrades versus third-party upgrades/alternatives and share experiences on the effectiveness of installed upgrades (GE and third party) based on recent valve inspections.
Crossover expansion-joint failures and subsequent changes to recommended inspections.
Managing the O&M of aging assets (including steam turbines at coal-fired and combined-cycle plants) given the increasing impacts of renewables on system operation. Discussion is expected to cover ARD replacement, L-0 trailing-edge erosion, valve seat cutting, and more.
Keep up with program developments on the Power Users website, where you also can register for the meeting, book your hotel room, etc.
A look back. STUG was born out of necessity. In the early days of the Power Users organization, the primary focus for most steering committees was tackling and managing-through the many issues plaguing the global gas-turbine fleet. As such, less and less time was available during most conferences to cover the combined-cycle steam turbines, generators, and balance-of-plant equipment. This may have been acceptable given the young age of that equipment relative to major maintenance.
However, by the early 2010s, Power Users recognized the growing number of steam-turbine issues—not just within the combined-cycle fleet, but also with the aging fossil fleet of traditional standalone steam turbines.
The STUG steering committee formed in 2013 was charged with "taking the temperature of the steam-turbine industry" by consulting with both users and vendors, and to host a conference aimed at addressing several of the day's hot topics. The group's inaugural conference was held in Richmond (Va) in August 2014. More than 60 users and 20 vendors participated.
Since then, STUG has continued to grow in both size and value. Today, STUG meetings are co-located with the annual conferences of the Combined Cycle, Generator, and Power Plant Controls Users Groups under the Power Users' umbrella. This "Combined Conference" is attended by about 200 users annually.
The 2023 STUG Steering Committee

Chairman: Matt Radcliff, Dominion (2019)
Eddie Argo, Southern Company (2013)
Jake English, Duke Energy (2013)
Jared Harrell, OxyChem (2023)
Jay Hoffman, Tenaska (2013)
Connor Hurst, Tampa Electric (2020)
Mark Johnson, Florida Power & Light (2020)
John McQuerry, Calpine (2013)
Lonny Simon, OxyChem (2013)
Brandon Steward, Southern Company (2023)
Seth Story, Luminant (2018)

Past members of the STUG Steering Committee

Jess Bills, SRP (2013-2021)
Gary Crisp, NV Energy (2013-2020)
Bert Norfleet, Dominion (2013-2019)
John Walsh, Sundevil Power (2013-2016)