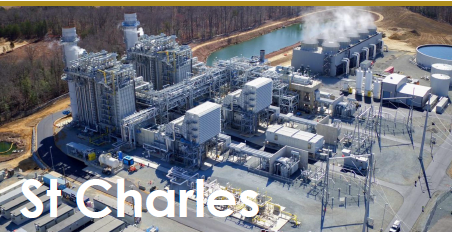 St. Charles Energy Center, a 745-MW, 2 × 1 combined cycle in Waldorf, Md, is owned by Competitive Power Ventures (CPV) and operated by Consolidated Asset Management Services (CAMS). Plant manager is Nick Bohl. 
Pocket guides invaluable to new employees
Challenge. Powerplants can be intimidating to new employees, and bringing a new hire's knowledge up to an acceptable level is a priority for both the employee and the company. Today there may be only one person assigned to handle all of a plant's outside responsibilities and he/she must be able to respond immediately to direction given over the radio by the control room operator in case of a problem. This requires knowing where every piece of equipment in the plant is located, which takes time; carrying drawings on rounds is not practical.
Solution. Personnel at St. Charles Energy Center, a 745-MW, 2 × 1 combined cycle in Waldorf, Md, created a pocket guide which provides layouts for different areas of the plant and the locations of vital equipment along with simplified drawings. Technicians do not need detailed drawings to know where they are and where to find a specific piece of equipment. The guide consists of multiple laminated cards with drawings on the front and on these drawings are numbered locations. Each number correlates to a piece of equipment and the description for each number is on the back of the card. The pieces of major equipment identified on the cards are those an outside operator may need to attend to or have been problematic.
Results. The pocket guide, developed by Chris LaBille, has greatly improved the knowledge and efficiency of the outside operators and reduced job stress. Their ability to respond quickly during recent freeze conditions proved invaluable.
Guidelines assist operators in understanding NERC standards
Challenge. To help operators maintain compliance with NERC requirements, plant management sought to improve their familiarity with certain regulatory standards. The goal was to have knowledge on specific topics easily accessible for reference if a corrective action was needed.
During plant starts after cycling, CROs sometimes noticed voltage spikes that would linger on the high side of 238 kV. For a 235-kV voltage schedule, generator output cannot exceed ±4-kV from the set point. The limited information easily accessible to operators was not in keeping with the plant's proactive safe and efficient culture.
Solution. The "Plant Generator Voltage Schedule per NERC standard VAR-002" guideline was created so all operators would be aware of the NERC requirements regarding the plant's specific voltage schedule. It includes the information needed by operators to deal with a regulatory exceedance or near miss.
A PowerPoint also was created to explain NERC's voltage schedule guideline. Operations personnel were required to review this presentation and answer questions afterwards. Any questions raised were answered thoroughly to assure complete understanding.
A plant voltage graphic also was added to the operations screen so all CROs and lead operators could continuously monitor grid pricing and the dispatched generation set point (Fig 1). When the voltage changes ±3 kV, a red light flashes, bringing the voltage schedule to the operator's attention.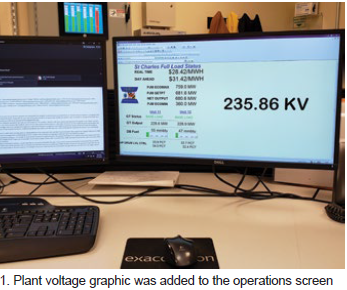 Results. The enhancement, credited to Mario Longmore and Jonathan Bennett, has proven very helpful. Also, operators are less stressed knowing they have the tools to respond to a regulatory episode in the unlikely event one occurs. Finally, the work described further reflects the culture of St. Charles and the continuous efforts made by staff to make proactivity and forward thinking a priority among all employees.
Winter preparation important to successful operation
Challenge. St. Charles Energy Center discovered during the January 2018 "polar vortex" that the plant was extremely deficient when it came to winter readiness. During this period, it experienced many trips and forced outages associated with freezing transmitters, valves, and sensing lines.
Solution. In summer 2018, plant leadership met to address all the issues that had occurred during the previous winter to be sure St. Charles was ready for the cold weather ahead. They developed a multi-layered plan that would take months to perfect and implement.
First step: Plant personnel identified and prioritized critical components, systems, and other areas vulnerable to freeze-up—including transmitters, instrument air system, motor-operated valves, valve positioners, solenoid valves, and fuel supply. The locations of these critical components and the heat-trace circuits and panels associated with them were identified.
A contractor was engaged to perform a heat-trace audit. Every circuit was tested, and amperage draws were compared to design data. The amperage readings were used to create heat-trace rounds so technicians could compare the live value to the expected value and report or address any discrepancy.
Plant personnel inspected every foot of insulation, verifying thickness, quality, and proper installation. Any missing insulation, gaps, and/or damage were noted. The list of insulation repairs ended up being well over 100 items. A contractor was hired to correct them.
Using the critical components list, technicians identified locations for wind barriers to protect components in winter. Plant management decided to use scaffold-type enclosures wrapped in a fire-resistant tarp. They are sturdy, removable, and cost-effective. Electric heaters, heat lamps, and halogen lights were installed in the enclosures.
Plant personnel inventoried all supplemental equipment onsite associated with freeze protection. Needed items were ordered and added to the inventory. To ensure critical equipment did not freeze under any condition, online and offline equipment cycling lists were created. They directed operators to cycle or exercise certain valves and pumps periodically.
In fall 2018, training was conducted to highlight preparations and expectations for severe cold weather. It included response to freeze-protection panel alarms, troubleshooting of freeze-protection circuitry, identification of plant areas most affected by winter conditions, a review of special inspections or rounds implemented during severe weather, and lessons learned from previous experiences and the NERC Lessons Learned program.
Results included zero lost opportunity attributed to freezing in winter 2018/2019. This significantly helped the plant's bottom line as well as employee morale. The plant has proven it can perform cold starts and remain online during single-digit ambient temperatures and wind chills below zero.
Project participants: Kelly Swann, Jennifer Renner, Mario Longmore, Jonathan Bennett, Mike Williams, James Brown, Rick King, Kenny Boone, Javier Gomez, Josh Plourde, George Sellmon, Ronald Scott, Chris LaBille, Frank Katzenberger, Sidney Potmesil, and Peter Swaby.
Labeling of chemical piping raises awareness, prevents injury
Challenge. Since COD, St. Charles has experienced several leaks in the sodium hypochlorite piping, which runs aboveground from the storage tank in the water-treatment building to the cooling-tower basin. Sodium hypochlorite and sulfuric acid piping are in the same pipe rack as lines conveying water not harmful to employees. Piping leaks are a safety concern because it might not be immediately clear if the leaking liquid is a chemical or water.
Solution. Plant staff, including Kenny Boone, labeled the chemical lines that run aboveground across the site. This makes personnel cautious and observant, and allows them to quickly determine the type of liquid discharge.
Results. Operators now respond to leaks more quickly and effectively to protect personnel.
Site safety pamphlet provides quick access to emergency information
Challenge. Project leaders were having a hard time ensuring vital emergency information was easily accessible and retained by all new personnel who came onsite. This included contact information for management staff and control-room phone numbers.
The previous method of disseminating this information was via PowerPoint. This would require visitors and contractors to take notes in order to have this information readily available or they would have to request it again from plant personnel. There was no guarantee that during an emergency, contactors would remember the information required.
Solution. A site safety pamphlet was created (Fig 2) by HSE Manager Jennifer Renner. This pamphlet is a trifold sheet of paper that contains management and control-room numbers on the front panel. Mandatory safety equipment, muster points, and smoking policy are listed on the back panel. Another panel provides the following site-specific safety points:
Driving and sign-in policy.
A mandate to stay with plant contact.
Immediate assistance if separated from plant contact.
Personnel trained in AED, CPR, and first aid.
Signal the plant uses to declare an emergency.
A statement that all work must be preauthorized prior to starting work.
Inside the pamphlet is a full map of the facility with key areas labeled so a person will be able to orientate him/herself in case of an emergency. All fire extinguishers, safety showers, eyewash stations, muster locations, smoking areas, the first aid kit, and the AED are marked.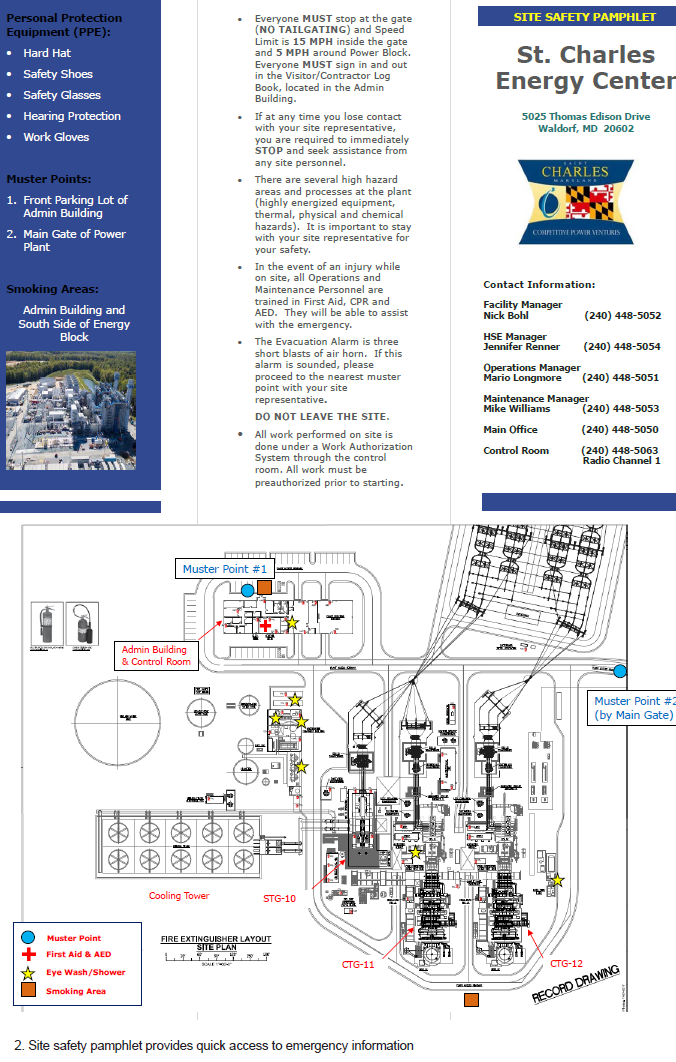 Results. The pamphlets are available next to the sign-in book in the lobby and during all outage safety briefings. The PowerPoint still has the same information, but with this pamphlet, visitors, contractors, and new employees need not take notes and can concentrate more on all the safety information delivered in this presentation.
Control-room display of boiler and pressure-vessel certificates
Challenge. The plant has over 40 state boiler and pressure-vessel inspection certificates that must be displayed in a prominent location and in plain view for review by auditors and inspectors. The licenses were being displayed in a large picture frame that hung in the control room but was in a location that did not allow someone the ability to inspect closely the information on each certificate. Plus, the display was unwieldy and licenses were prone to detaching and sliding down behind other certificates.
Solution. The need for a better organization was a must, along with minimizing space in the control room. Jennifer Renner and Kelly Swann acquired a flip and display wall organizer to have all certificates displayed neatly and in clear sight (Fig 3). It also makes it easier when certificates must be changed or reviewed.
Results. Auditors/inspectors and personnel needing to review certificate information have applauded use of this organizer. The ease of access to the information allows for quick review and reference.