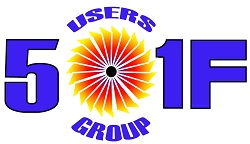 The 501F Users Group Vendorama program gives attendees access to live presentations by dozens of products/services providers offering O&M solutions. The program matrix for the 2019 meeting allowed each attendee to participate in up to seven presentations, vetted for technical content by the organization's Board of Directors. There were seven sessions, each featuring five concurrent half-hour presentations.
Abstracts of Vendorama presentations by CCJ business partners follow. These summaries attest to the quality of information disseminated. Owner/operators with access to the 501F Users Group's website can retrieve the PowerPoints online and dig into the details.
Articles on other portions of the 2019 meeting of the 501F Users Group were published in the last issue of CCJ ONsite. Connect to that information via the following links:
Conference overview, plans for 2020.
Advanced Turbine Support LLC, "501F compressor NDE, impact damage, tip liberations, and in-situ blending capabilities" and, together with PSM, "In-situ torque-tube inspection and prediction methodology"
Blending of compressor blades and vanes damaged in service, but repairable, removes stress concentrations or cracks that otherwise might lead to metal liberation with downstream consequences. Significant time and cost savings result when blending can be done in-situ.
A couple of years ago, in-situ blending was considered viable only on the first stage or two of the 501F compressor. Advanced Turbine Support's Mike Hoogsteden, director of field services, told attendees that blending was now possible from the variable inlet guide vanes to Row 7 and showed the results in a series of photos.
AGTServices Inc, "The negative impact of increasing cyclic duty on electric generators"
Jamie Clark, a frequent speaker at user-group meetings, strongly recommended to 501F owner/operators that they schedule baseline condition assessments for their generators as soon as possible—this to avoid unplanned repairs resulting from the frequent starts/stops characteristic of powerplant operations today.
Correct any deficiencies identified quickly, he added. Make sure repairs are done right the first time—even if it means taking a major to do so. Then consider robotic inspections for future inspections in lieu of field removal, he said.
Be mindful of significant changes in operating duty because they likely will require changes to your outage schedule, Clark continued. Cycling units warrant shorter intervals than baseload and seldom-run machines.
AGTServices has found that, compared to outages conducted only a few years ago, today's most involved repairs are related to problems caused by cycling. Clark mentioned the following examples:
Endwinding loosening and insulation damage.
Core and belly-band loosening.
Winding migration, which can block off cooling.
He closed by urging the sharing of generator experiences during open user discussion forums. Some units (OEM, model, etc) suffer common problems, Clark said: It's in your best interest to know what they are.
ARNOLD Group, "Technical differences between optically similar single-layer insulation systems"
Pierre Ansmann told attendees that ARNOLD Group's single-layer insulation system is state-of-the-art technology capable of solving all known insulation-related problems associated with the operation and maintenance of gas and steam turbines. Particularly important given the challenges created by today's demanding operating paradigms is that the company guarantees reuse of its insulation system for 15 outages without a decrease in efficiency.
During operation, ARNOLD insulation enables users to decrease compartment temperatures significantly—by more than 50% in some cases—while decreasing fuel consumption and increasing power production.
During maintenance activities, the single-layer system reduces outage time and related cost because there are fewer blankets to remove, repair, and replace. Plus less local insulation labor and less scaffolding are required for outages.
Ansmann closed his session by describing the company's design innovations in 2017 and 2018 to improve on the insulation of turbine bearing tunnels. As the slides in his PowerPoint explain, the ARNOLD substructure bracket system assures ease of maintenance access while protecting against damage from both engine vibration and from oil that might leak into the tunnel.
C C Jensen Inc, "Big data in oil conditioning and monitoring"
With owner/operators becoming more comfortable using online data collection and analysis for large capital equipment, C C Jensen's Axel Wegner spent his Vendorama session explaining to plant personnel why they should consider doing the same for turbine oil. Storing retrievable lube-oil data in PI or similar system allows users to adopt a "big data" approach for identifying off-normal conditions, monitoring their development, and taking appropriate corrective action in a timely manner.
Online particle counting was one example he gave for identifying component-specific problems before they caused a breakdown or operational emergency.
Wegner's presentation was a good overview of the effects of oil contaminants on machine life, oil sampling, oil analysis, and online condition monitoring, while providing real-life examples.
CECO Peerless, "Importance of ammonia injection grid design to SCR performance"
Attendees were told that the company's ammonia injection grid (AIG) is designed and optimized to provide the desired reagent distribution across the duct to assure expected SCR efficiency and performance. The square cross section of CECO Peerless' EDGE™ AIG lances are said to promote better mixing, thereby improving NOx reduction, reducing ammonia slip, promoting longer catalyst life, and reducing the cost of operation.
A lab comparison of EDGE and an AIG with traditional lances revealed better performance from the former in half the distance from the AIG grid to the catalyst. A 30% reduction in ammonia consumption was reported by a plant after conversion of it AIG to EDGE.
Three brief case studies are provided in the presentation.
Doosan Turbomachinery Services, "501F rotor Class III inspection, new torque tube/air separator accomplished in 69 days of shop time"
The company's capabilities are explained by way of a Class III inspection of a 501F rotor with 116,000 fired hours and nearly 2000 starts. The project, which took 69 days in the shop, included complete reverse engineering and manufacture of the torque tube, air separator, and four rows of compressor blades, as well as complete disassembly, inspection, and reassembly.
A Class III inspection in the Doosan shop includes the following steps:
Deblade and unstack compressor and turbine sections.
Inspect and analyze all rotor components.
Make engineering recommendations on any life-limiting factors.
Install new belly bands.
Reassemble, balance, and ship to site.
Digging into the details of a turbine unstack illustrates the depth of discussion and level of detail presented. The six steps here are these:
Put rotor in vertical position.
Measure and record stretch of turbine bolts.
De-tension 12 bolts.
Remove turbine disks.
Photograph and visually inspect curvic couplings.
Prep parts for cleaning.
A checklist of important items to remember during reassembly of the compressor and turbine, including balancing tips, was a valuable primer for anyone unfamiliar with the guts of the engine or anyone looking ahead to a lifetime evaluation of his/her machine. Attendees were reminded that in-depth planning for a Class III inspection is critical and that both bolting and parts are long-lead-time items.
Testifying to the success of this project was that the rotor required only 271 grams of balance weights on the turbine end with all blades installed. Further, that there was less than 1-mil vibration at full load and no need for a field balance.
Emerson Automation Solutions, "Benefits of incorporating hardware/software that provides total plant solutions provided by MHPS and Emerson collaboration"
Presentation focused on the capabilities and achievements of the Mitsubishi Hitachi Power Systems/Emerson alliance formed in 2008 to provide state-of-the-art turbine (gas and steam) and controls solutions. Successful projects completed since the alliance was formed include logic improvements, tuning, and dual-fuel conversions with full Ovation upgrades. Emerson reported having completed over a hundred upgrades of Siemens TXP systems.
Ovation is much more than a traditional distributed plant control system. In addition to native advanced applications for optimizing plant operations, it now supports integrated machinery health monitoring and generator excitation, as well as embedded simulation and enhanced cybersecurity solutions.
For more on Ovation's capabilities and owner/operator experience with this controls platform, read CCJ's report on the 2019 meeting of the Ovation Users Group elsewhere in this issue.
Environex Inc, "Advancements in CO and NOx control technology"
Andy Toback regularly shares Environex Inc's knowledge of CO and NOx control technologies with CCJ readers. You can access some of this information with a keyword search of the magazine's archives at www.ccj-online.com. At the 501F Users Group's 2019 Vendorama he focused on four advancements in CO and NOx control that owner/operators should be aware of. They are:
Dual-function catalyst, which combines the functions of the SCR and CO catalysts into a single catalyst.
Sulfur-tolerant CO catalyst, a modified CO catalyst formulation that provides greater resistance to performance loss from sulfur poisoning than conventional CO catalyst.
Low-pressure-drop catalysts. The increased performance requirements for SCR systems require higher catalyst volumes of traditional designs, which, in turn, causer higher backpressure and efficiency losses.
Improved reagent mixing made possible by retrofits to improve ammonia-to-NOx distribution before the SCR catalyst.
Get the details by accessing Toback's presentation.
EnvironmentOne Corp, "Hydrogen auxiliary system upgrades"
Chris Breslin's 50-slide Vendorama presentation with the title "Hydrogen auxiliary system upgrades" clearly exceeded expectations. It was more like a short course on the care and handling of hydrogen (read "safety"). Most welcome considering a couple of high-profile explosions in the last decade and the general lack of knowledge about, and respect for, this gas by many of the relatively inexperienced personnel being hired at powerplants today.
You might want to consider downloading Breslin's presentation, giving your employees a copy—it's easy to understand and to the point—and then using it as the basis for a "lunch and learn."
Breslin begins by answering the question of "Why hydrogen?" then explains the properties of the gas, moving quickly into safety best practices. The safety and efficiency reasons for hydrogen purity monitoring are included along with the reasons for upgrading existing equipment: Safety is Number One!
There's a section on generator condition monitoring and another on hydrogen dryers. The benefits of automated purge also are examined.
Hilco Div of Hilliard Corp, "Combined cycle oil filtration and conditioning"
The Hilco team explained to users how its products bring fluid contamination problems under control, cost-effectively. The company offers full-service fluids management—including sample-taking, fluid analysis, equipment consulting, field techs, startup help, etc.
Conditioning equipment discussed included coalescer/separators for removing moisture and contamination from steam-turbine lube oils, reclaimers for restoring contaminated oil to a like-new condition, gas filters in both simplex and duplex arrangements for gas-turbine fuel systems, and oil-mist eliminators for reclaiming the oil found equipment vent air—coalescer only and coalescer with blower and silencer.
Hy-Pro Filtration, "Turbine oil tests and frequencies; water contamination mitigation and control"
A presentation on lubricant maintenance and analysis is particularly helpful during the Vendorama sessions which precede the vendor fair at 501F User Group meetings. There always are several companies in the exhibit hall offering turbine oils and conditioning services and it's tough to remember all the standards and reasons for requesting the various tests you should be conducting. Without a primer like that presented by Scott Howard you might not remember the questions you should be asking on the show floor.
He began by introducing (re-introducing to many attendees) the turbine-oil testing guidelines published in ASTM 4378-13 and then moved quickly to test frequency. Regular analyses (appearance, viscosity—ASTM D445, total acid number—ASTM D664, ISO particle count—ISO 446, MPC—ASTM D7843, moisture—ASTM D6304/D7546, metals—ASTM D5185), he reminded, should be done every one to three months, periodic analyses (Ruler—ASTM D69071, RPVOT—ASTM D2272, rust—ASTM D664 for steam turbines) every three to 12 months. But be sure to run a battery of tests within 24 hours of any lubricant change.
Analyses to conduct as required include the following: FT-IR—ASTM E2412, rust—ASTM D664 for gas turbines, foaming—ASTM D892, air release—ASTM D3427, demulsibility—ASTM D1401, insoluble—ASTM 2273, and flash point—ASTM D92.
Measurement of varnish potential was discussed in two parts: one for mineral oils, one for phosphate esters. Course notes for this portion of the presentation were provided by EPT; learn more at www.cleanoil.com/likeitwasyourown.
JASC, "The science of liquid-fuel-system reliability in dual-fuel applications"
Reliable operation of dual-fuel gas turbines on oil demands that owner/operators protect against coking in fuel-system valves and piping. Active cooling is one solution available to users for assuring both reliable starts on liquid fuel and reliable fuel transfers from gas to oil.
JASC offers several cooling options that are easy to retrofit on turbines at plants concerned about liquid fuel system reliability. One of these, the so-called "thermal clamp," introduced only about two years ago, is rapidly gaining industry attention. Results from the first few commercial installations confirm success in both protecting against coking and eliminating the need for "verification" firing of oil every month to confirm liquid-fuel system operability.
The company's latest system configuration, which involves moving fuel piping off the hot casing and installing thermal clamps, water-cooled fuel valves, and controls, enables owner/operators to extend the intervals between runs on back-up liquid fuel to six months or longer without sacrificing reliability.
To illustrate, a 7F gas turbine operated on liquid fuel during commissioning of its fuel-system upgrade and then burned gas exclusively for the next nine months. After a shutdown, the turbine started and operated on distillate without incident.
A typical F-class unit needing to confirm oil firing capability would have paid approximately $30,000 each month the test was conducted.
Presentation gives details on thermal clamps and other water-cooled liquid-fuel system components. The schematics and case studies included in the slides can help you get started on your project today.
Mee Industries Inc, "Benefits of wet compression"
Thomas Mee may be the industry's foremost expert on fogging/wet compression, having decades of analytical and plant-level experience on the technology. He encouraged attendees to consider this cost-effective method of power augmentation for delivering additional megawatts virtually instantly in times of need.
Fogging/wet compression systems are easy to integrate with gas-turbine controls, he said, adding that his company can deliver the necessary equipment in 12 weeks or less and can connect the new system to existing equipment within a favorable outage window—perhaps in only 24 hours.
Responding to a question, the speaker said erosion risk is reduced with small droplet size—a distinguishing characteristic of Mee systems. Droplet size and its impact on equipment received significant air time.
TOPS Field Services, National Electric Coil, and Doosan Turbomachinery Services, "Non-OEM solutions"
TOPS Field Services, National Electric Coil, and Doosan Turbomachinery Services co-presented on the subject of non-OEM outage solutions and the advantages offered by their collaboration. TOPS Toby Wooster took the lead, explaining that OEMs have been marketing an all-under-one-roof outage approach to powerplant owner/operators, where the engine manufacturers supply the field service, parts repairs, and engineering as a package.
This consortium's presentation reminded users that the all-under-one-roof solution lacks the ability to deliver consistent quality, turnaround, and, most importantly, partnerships for plants that, for the most part, are unique.
TOPS and its partners have found through discussion with many users across the industry that vendors lack the partnership approach in their proposals: They don't work with owner/operators to help solve their maintenance problems; their goal is to complete the outage at the lowest possible cost and move on to the next job.
The presentation suggested that the solution of greatest value came from working closely with a pure-play vendor that invests in relationships, flexibility, quality, and transparency, and responds quickly to the unique challenges every plant faces.
Wooster next explained how TOPS and its partners can deliver on their outage solution at a competitive price:
They invest heavily in the personnel who work onsite. The result: team members have been with their respective company for years and bring that experience to bear on your project.
They work with the plant well in advance of the outage to identify early risks that can impact cost and schedule—risks not identified in the RFP.
The development of solutions to improve outage performance, reduce duration, and minimize risks is ongoing in the back office.
Pioneer Motor Bearing Co, "Developing an innovative bearing radial load sensor"
The session opened with a review of how babbitted fluid-film bearings work and the types of sensors available to track their health—including thermocouples and RTDs to monitor temperature, proximity probes and accelerometers to track vibration, and load cells and strain gauges to monitor load. Temperature is important, of course, because the higher it is, the thinner the oil film. Vibration is measured to prevent bearing contact and to detect machine operating anomalies.
Progress is being made in the development of embedded strain gauges to accurately measure the load on the bearing train. The expectation is they will be able to detect wipe events without visual inspection, detect metal-to-metal contact/surface friction faster than a temperature sensor, and assist owner/operators in run/repair decisions.
A roadmap with critical objectives is included in the presentation.
SVI Dynamics, "GT exhaust system repair and upgrade considerations"
SVI Dynamics is, perhaps, best known for its aftermarket design, engineering, and field services work from the gas-turbine exhaust to the stack exit. Scott Schreeg made a few points in his Vendorama presentation particularly worthwhile considering by plant O&M personnel. They are:
Most gas-turbine exhausts are fine until there is a hiccup and the project must be expedited, limiting options and flexibility to achieve the optimal repairs and/or upgrades.
If inspections are an option, typical failure modes can be monitored using thermography, noise surveys, and visual inspections to provide the information and time necessary for proper outage planning.
Upgrading gas-turbine exhausts using CFD analysis to improve aerodynamics will provide a longer-lasting system by reducing velocities and pressure drop, while using current methods and materials for maximum durability.
Project specifications can include parameters for acoustical, thermal, and aerodynamic guarantees to ensure the owner/operator has the opportunity to meet its project goals.
Turnkey contracts—including engineering, material/equipment supply, demolition, and erection—can mitigate risks and streamline project execution.