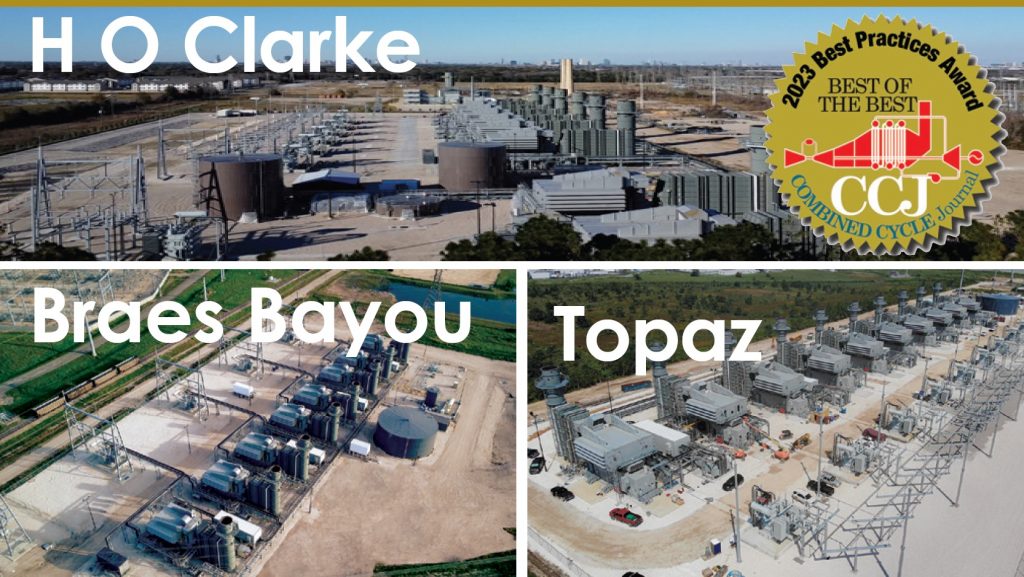 H O Clarke, Topaz, and Braes Bayou

Owned by WattBridge
Operated by ProEnergy
1248 MW (Clark and Braes Bayou each have eight 48-MW LM6000PC engines; Topaz, ten 48-MW LM6000PC machines). All are gas-fired peaking units located in the Houston area
Plant manager: Kevin Chaffin
Challenge. Today's O&M environment faces a triple challenge: First, staff shortages abound and filling these roles with skilled, trained, and experienced technicians is difficult nationwide. Second, training inexperienced yet promising staff puts additional stress on the existing staff and tends to be site-specific and difficult to repeat at scale. Third, because O&M services at plants typically operate on razor-thin margins, additional investment for recruiting and training compounds the first two challenges.
Solution. ProEnergy O&M services leveraged geography to alleviate staff shortages and centralize training new staff. In 2022, the company operated four peaking-power facilities with a total of 30 LM6000PC gas turbines in the greater Houston area. The company embraced the small-team concept and embarked on a mission to streamline work management through standards and automation.
Each site is staffed with a small contingent of technicians. A roving services crew supports each site for major work items, can work on multiple turbines, and visits on an as-needed basis. In addition, all sites leverage technology from the 24/7 remote operations center (ROC) and remote monitoring and diagnostics (RM&D) support from the ProEnergy ROC in Houston and Sedalia, Mo.
Staffing. Each eight-unit plant site is staffed by one (each) instrumentation and electrical (I&E) technician, mechanic, auxiliary operator, and site supervisor. Staffing is the same for 10-plant sites, except they have two I&E techs. Roving plant services teams each have two I&E techs and two mechanics.
Results. Leveraging the geographic density of plants in the Houston area, creating an effective shared-services team, and streamlining work processes enables ProEnergy to thrive with a small O&M team. Based on 2022 performance, the company operates peaking-power facilities with industry-leading reliability and availability.
In 2022, the WattBridge fleet was dispatched for more than 1.3 million MWh of much-needed power throughout the year at an average starting reliability of 99%. Furthermore, as Texas endured record heat during the hottest July in 128 years, the H O Clarke and Topaz facilities met energy security needs with starting reliabilities of 99.6% and 99.7%, respectively.
Project participants:
Kevin Chaffin and the ProEnergy O&M organization
2023 Best of the Best from the LM6000 fleet