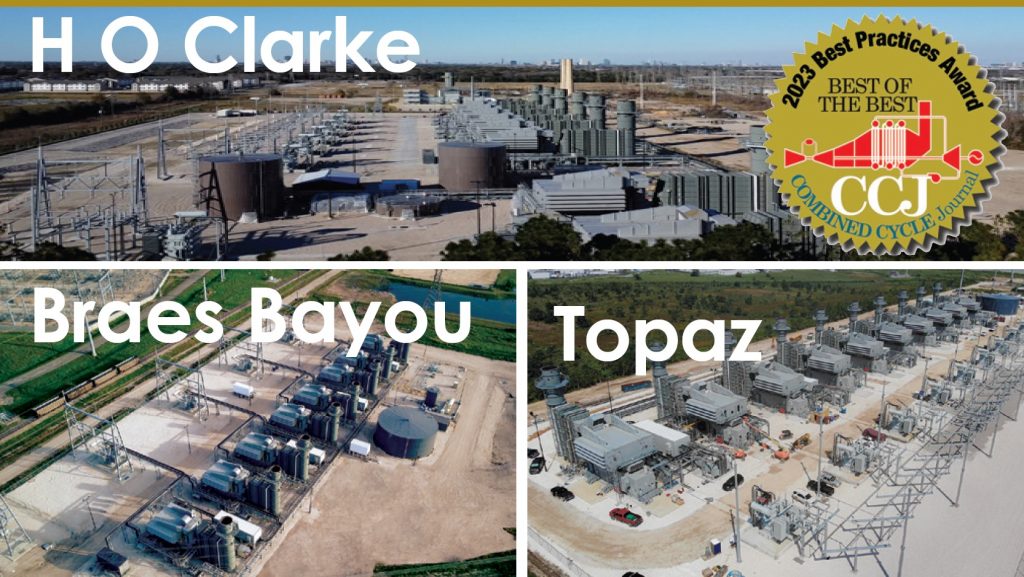 H O Clarke, Topaz, and Braes Bayou

Owned by WattBridge
Operated by ProEnergy
1248 MW (Clark and Braes Bayou each have eight 48-MW LM6000PC engines; Topaz, ten 48-MW LM6000PC machines). All are gas-fired peaking units located in the Houston area
Plant manager: Kevin Chaffin
Challenge. Climatic stress has no geographic boundary. As more-frequent extreme-cold events strain supply capacity, the challenge is keeping powerplants online. Virtually any facility in the world is susceptible to icing issues considering that turbine icing begins at 40F and air compression begins freezing at 34F.
Solution. Traditionally overlooked in warm climates, winterization solutions can ensure sustained cold-weather operation. To winterize balance-of-plant (BOP) equipment, O&M teams must balance operational strategies and procedures with costs.
What started at ProEnergy (PE) as an emergency effort—creating temporary, home-built structures in advance of a record freeze—resulted in effective, low-cost, and simple-to-use removable shelters as standard practice across all of the company's plants. In 2022, PE operated four peaking power facilities in the greater Houston area comprised of 30 LM6000PC gas turbines.
Rather than building costly, hardened shelters, PE worked with a vendor to create custom weatherization shelters installed and uninstalled via zippers. These shelters apply to the water-spray injection skids, the NOₓ skids, and the plant instrument air compressors. An insulated covering is also used for the instrument panel on the turbine package.
Results. A temporary, urgently needed solution for one location has now grown to a permanent, inexpensive solution across an entire fleet. The ProEnergy O&M team conceived of this best practice even before related NERC compliance goals were instituted and now apply it to every new plant that comes online for improved energy security.
Though located in the warm Gulf Coast, the H O Clarke Generating Station—the first WattBridge facility, the world's largest LM6000 owner and operator—was prepared for the unprecedented. The station came online just a week and a half before Winter Storm Uri, a historic ice event that disabled more than half of the Texas power grid.
Recognizing that preparations were in order, the PE O&M team executed creative, low-cost solutions by erecting scaffolding around NOₓ, water spray, and water pumps. Also ordered were 36 electric heaters (two per structure), built wind breaks for air compressors, and staffed the plant 24/7 for periodic rounds.
When the storm came, H O Clarke proved resilient with its newly innovated winterization strategy in place. The Ercot market reflected an extreme need for generation, and the station remained 100% available, running 141 uninterrupted hours with enough power for 200,000 homes. By the time Ercot revoked its emergency order, it had run for six days.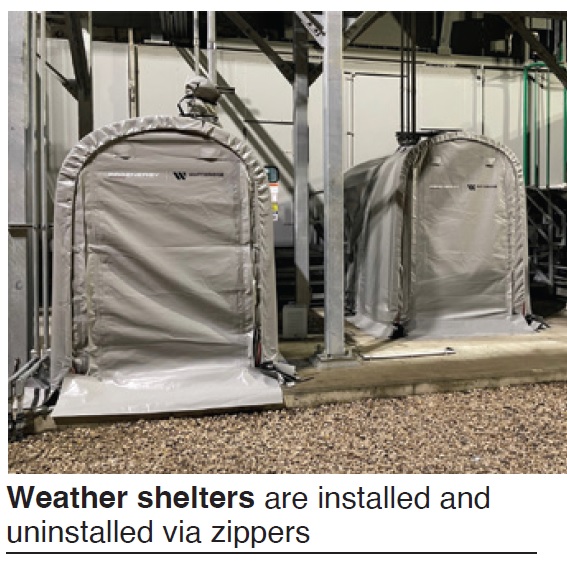 After that, ProEnergy explored options to make this successful short-term solution into a long-lasting one. The team explored a variety of structures, including permanent shelters and a wide variety of temporary, seasonal structures, and selected the zipper-based structures shown in the photo.
Applied at the second facility to come online, Topaz Generating Station, the O&M team deploys these structures starting in December each year and removes them in spring. In addition, WattBridge sites institute 24/7 plant staffing when expecting temperatures under 28F. These structures will be available at all of the company's sites in 2023—including H O Clarke, Topaz, Braes Bayou, Mark One, and Brotman.
Project participants:
Kevin Chaffin and the ProEnergy O&M organization
2023 Best of the Best from the LM6000 fleet