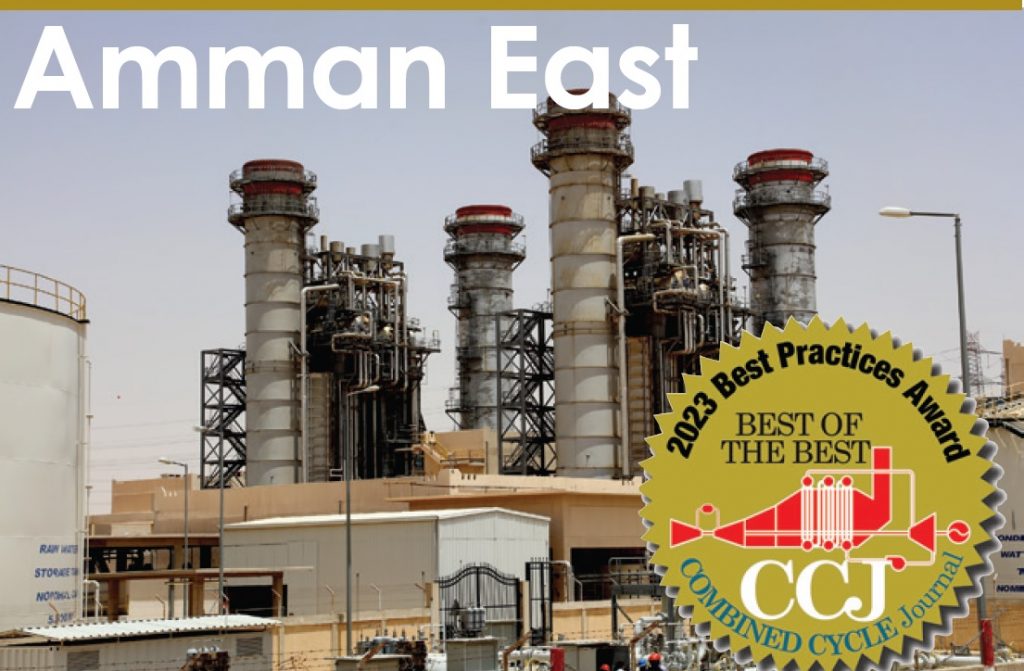 Amman East Power Plant

Owned by AES Corp, Mitsui, and Nebras Power
Operated by AES Jordan PSC

400 MW, gas-fired with diesel-oil backup, 2 × 1 combined cycle powered by AE94.2 gas turbines, located in Al Manakher, Jordan. COD was September 2009

Plant manager: Feras Hammad
Background. Amman East's gas turbines are each connected to a dedicated heat-recovery steam generator through a diverter damper, allowing the plant to run simple- or combined-cycle. Steam produced by the HRSGs drives a single-casing, condensing, non-reheat turbine. The steam cycle is dual pressure.
Challenge. LP evaporator sections in both HRSGs suffered from flow-accelerated corrosion (Fig 1). Investigations undertaken with the goal of preventing FAC or minimizing its consequences on plant productivity were not fruitful and management opted to replace the affected heat-transfer surface (Fig 2).
Solution. Each LP evaporator consists of three sections connected in parallel; each section has two harps. The harps weigh a nominal 28 t and measure approximately 21 × 4 × 0.4 m deep. The harp-replacement project began in 2021. The new modules are made with SA213-T11 tubes and SA335-P11 headers to minimize the possibility of FAC attack one might expect with carbon steel.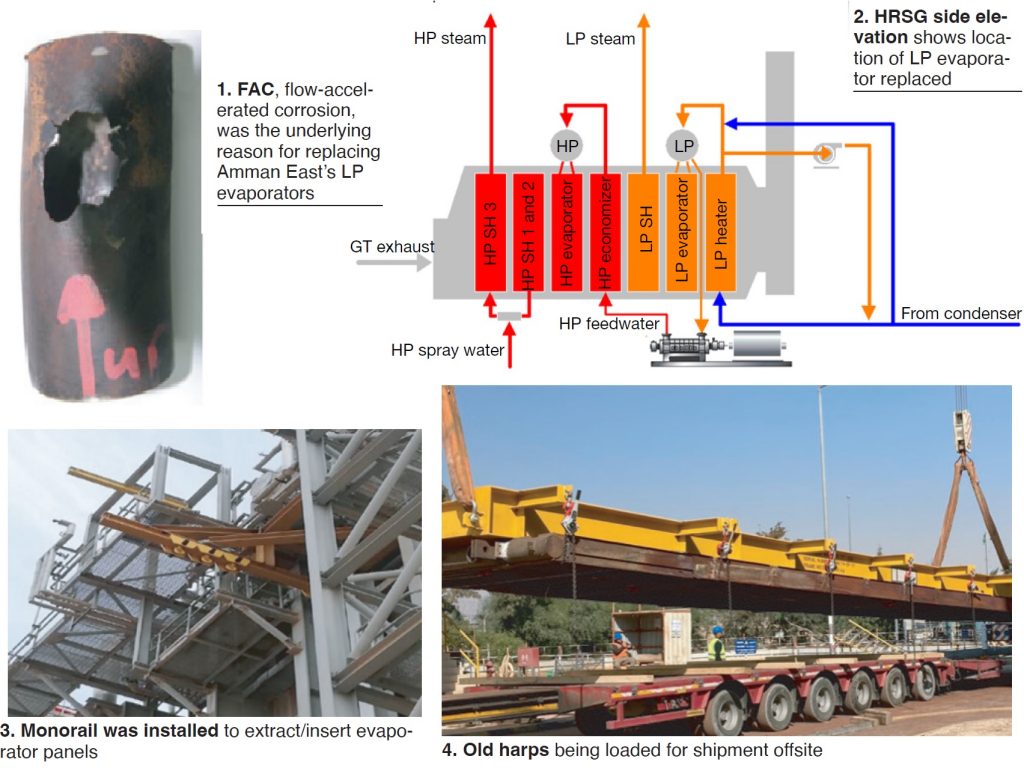 Preparation for replacement included removing a portion of the casing and installing the monorail shown in Fig 3 to extract the old panels and insert the new ones. While this work was ongoing, the new panels were transported to the site and stacked in the order they would be picked by the crane. The damaged panels were trucked offsite (Fig 4).
Final steps included installing the new harps and interconnection piping, non-destructive testing, leak testing, and flushing. Next, the HRSG casing was reinstalled with new insulation and high-temperature piping was insulated. Touch-up painting and verification that I&C and electrical circuits were properly installed brought the project to a conclusion.
Results. Rehabilitation of each HRSG took about 30 days. All project goals were achieved. Access the project's 5-min time-lapse video produced by AlRiachi here; the editors give it two thumbs up.
Project participants:
Feras Hammad, plant manager
Sameer Ghanim, mechanical leader
Mohammad Thaher
Mohammad AlRiachi
Anas Diab, performance manager
Amman East's 2023 Best Practices Submittals