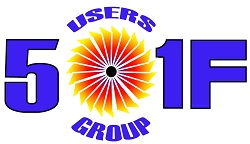 OEMs for the 501F gas turbine are Siemens Energy, Mitsubishi Power, and GE, with highly capable PSM and Doosan Turbomachinery Services half a step behind—between the manufacturers having their nameplates on the engines and the long list of specialty products/services providers serving this fleet.
Presentations made by Siemens Energy and Mitsubishi Power personnel at the 2022 meeting in New Orleans are not posted to the 501F Users Group website. The former had the podium for only two hours. Its presentations are posted to the OEM's customer extranet portal at https://cep.siemens-energy.com.
GE did not participate in the meeting.
PSM held the floor for an entire afternoon. The company's execs and top engineers participated, presenting on recent 501F projects completed and those in the pipeline, 501F FlameTOP (FlameSheet™ and GTOP7), operational flexibility, hydrogen initiatives and roadmap, supply-chain issues and mitigation, 501F repairs (focus on R1 blades and vanes), product-line update (rotors, exhaust, diaphragms), troubleshooting, and service engineering.
While these presentations also are not posted to the 501F website, you can request them from your plant's PSM representative.
Virtual presentations
The following eight vendor presentations were made during the special 501F virtual Vendorama program conducted at the end of September 2022. Most are updates of what the vendors had to say during the in-person Vendorama program in New Orleans earlier in the year. Access both the slides and recordings of these presos by accessing the 501F Users forum. 
PSM, Fuel and operational flexibility: Hydrogen capabilities and the latest on 501F upgrades and developments, highlights some of the 501F fleet activities and R&D projects that PSM will update owner/operators at this meeting.
Environment One Corp, Generator condition monitor for air-cooled machines, discusses the technology's application and contribution to higher reliability—covering principle of operation, system description, sample applications, and design considerations.
Arnold Group, Advanced single-layer turbine warming system. Detailed system description, operating experience, and value proposition are presented.
Braden Filtration, Air inlet pulse filters: Are you keeping pace with the industry? A thorough assessment of pulse-type filtration systems for maximizing gas-turbine performance. Includes details on fibers, chemical coatings, and membranes.
Catalytic Combustion, Effects of sulfur on CO catalyst when operating at lower temperatures, offers solutions for protecting against catalyst degradation by sulfur contamination.
National Electric Coil, Aeropac I generator challenges, failures, and recovery, provides two case studies with guidance on developing a repair plan and identifying major milestone progressions.
C C Jensen Inc, De-mistifying varnish: Why the CJC VRU varnish removal unit is the safest and most efficient technology. A tutorial that includes varnish characterization, impacts of turbine operation on varnish formation, importance of oil analysis and tests of greatest value, methods of varnish removal, online condition monitoring, etc.
EagleBurgmann Static Sealing Solutions, PulseBreaker™ technology for high-efficiency units and 501F/G maintenance tips. Shares why this new type of gas-turbine exhaust joint is more capable than the company's traditional quilted design: The latter keeps insulation in place, the former offers better protection for insulation media. Focus is on design details.
In-person presentations
Companies making the following presentations during the February in-person Vendorama program who did not participate in the virtual Vendorama session in September. The slide decks for these presos can be accessed on the 501F website along with the user presentations.
Cutsforth Inc, Case study on electromagnetic interference (EMI) monitoring illustrates the company's ability to validate an event and prevent a failure. Presentation shows how information from high-speed waveforms, spectrum scans, and data analyses captured from shaft ground monitoring and EMSA were used by SMEs to identify the source of high voltages and arcing and allow repair before the generator experienced significant damage.
EMW filtertechnik, Better filtration pays for itself—Part 2. This is a follow-on to the company's 2021 presentation, offering a deeper look into the main KPIs of the filter industry and updated results from several gas-turbine projects.
APG-Allied Power Group, 501FD2/3 Row 3 turbine-blade repair and life extension, is vintage Aaron Frost, an industry leader in the subject matter presented. Reviews historical R3 blade designs, inspections, findings during those inspections, characterizations of defects and where they are located and materials affected, and much more. Presentation is particularly valuable for its level of detail and photography. You can go through the slides multiple times and still find things of importance you weren't aware of.
Doosan Turbomachinery Services Inc, 501F Row 1 blades: Operational and historical repair experience. Focuses on the many design differences among Row 1 blades made over the last 25 years with emphasis on OEMs, materials, and coatings. Advantages and disadvantages from a repair-management point of view are provided, in addition to standard repair recommendations and other considerations for maximum lifecycle management.
B K Vibro America, A method for calculating complex asymmetric distributed weight splits. If a turbine rotor has a significant number of existing balance weights where an additional balance weight is needed, a complex asymmetric weight distribution can be used instead to help minimize the total number and mass of weights needed versus a single simple weight split.
Environex Inc, Is your SCR/CO system ready for turndown?—Part 2 is a follow-on to the company's presentation in February 2020. Back then the focus was how higher NO2/NOx ratios in exhaust gas were increasing SCR system performance requirements. However, recent field data show another phenomenon is causing even higher NO2/NOx at the SCR catalyst inlet: Lower VOC emissions requirements. Goal of the preso is to help operations personnel better understand what to look out for when specifying SCR and CO catalysts.
Frenzelit Inc's Expansion joint upgrades for legacy 501FD and 5000F units brings you up to date on product improvements to eliminate the root cause of cracking and premature expansion-joint failures.
HRST Inc's Considerations for fast ramping and peak capacity walks you through these topics: optimal startup procedures, gas-turbine purge time calculation, purge credit feasibility, steam-turbine considerations, HP-drum ramp rate, tube metal temperature, and nameplate capacity. Goals include helping users (1) avoid startup damage from water pooling in the reheater and superheater when offline and (2) mitigate pressure-part stress from rapid temperature changes.
JASC's Zero-emissions equipment provides operational readiness for liquid-fuel operation and allows the testing of the liquid-fuel system without burning oil in the turbine. Company's technology enables fuel-transfer rates approaching 100% and fuel-system flow-control functionality which only requires service at intervals of four to five years.
Moog Industrial, Improvements and upgrades to fuel-gas control-valve assemblies. Describes Moog W501F/G actuator/gas-control-valve lineage and model variations, and control system trends and their impacts on fuel control valves. Plus, benefits and advantages of the company's new chrome coating process for cylinder bores, and its explosion-proof-rated solenoid-activated dump valve.
Nord-Lock Group, The four-way-joint leak solution described is said to be a robust fix which incorporates hydraulic and mechanical tensioning techniques, and internal seal with adjustable retainers, and improved bolt-hole and flange sealing system. Result: Zero leaks.
Sensatek Propulsion Technology Inc's Turbotrack™ monitors the actual condition of rotating parts. The company's on-blade temperature/strain sensor system can be deployed without continuously dismantling the engine, rapidly accelerating testing while reducing costs.
Shell Oil Products, Healthy machines through real-time lubricant condition monitoring. Describes the company's program for monitoring oil and equipment condition 24/7 to give advance notice of impending mechanical failures while providing continuous remote data-gathering.
Sulzer Turbo Services Houston Inc, Maintaining 501F rotors, shares company's robust, repeatable repairs and solutions to the following issues, among others: broken alignment fits of forward stub shaft, compressor through-bolt failures, fretted air baffles, and significantly worn disc seal arms. Plus, how Sulzer conducts shop rotor inspections, evaluates findings, and plans steps forward.
SVI Industrial, Repair procedures: The good, the bad, and the ugly, shows through a series of photos how to evaluate HRSG weld repairs. Topics include how to find the leak, Code repair concerns, identifying repair methods, raising/lowering panels for tube repair, plugging tubes, jacking panels, Code requirements for stress relief, key Alloy 91 weld features, post-weld heat treatment, welding method 6, and supplement 8.
Voith Turbo, Collaboration in the "new normal," discusses the following: improving starting-system availability and reliability, maintenance updates for legacy units, system safety developments, and other topics as well.
Useful Conference Links