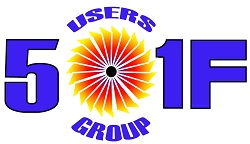 The 501F Users Group is a private community of owners and operators of 501F gas turbine/generators established to discuss the operation, maintenance, inspection, troubleshooting, repair, and optimization of their plants and equipment. Membership in the organization is limited to individuals who are directly involved in the construction or O&M of Siemens Energy, Westinghouse, and Mitsubishi Power 501F, 701F, and SGT6-5000F gas turbines and who are employed by companies with a direct ownership and/or operational interest in those engines.
Annual conferences are developed and moderated by the group's officers and directors (sidebar). Agenda highlights for the F frame's portion of the 2023 joint meeting are presented immediately below for Tuesday, Wednesday, and Thursday (half day), February 21-23. Highlights of Monday's program, for both 501F and 501G users, are in the previous section. CCJ's printing deadline prevented the sharing of more detail in this special edition for the Reno conference. Updated information is available at the meeting registration desk.
501F Users Group Officers and Board of Directors

President and Chairman of the Board
Ivan Kush, principal CT and con­trols engineer, Cogentrix Energy Power Management

Vice Chairman
Carey Frost, program manager, Duke Energy

Secretary and Board Member
Brian Berkstresser, plant manager, Liberty Utilities

Board Members:

Blaine Gartner, principal engineer, Xcel Energy
John Burke, O&M manager, Cottage Grove Power Plant, NAES Corp
Dave Gundry, senior engineer, Xcel Energy
Greg Dolezal, managing director, Klamath Energy LLC (Avangrid Renewables)
Jaime Oliveira, O&M senior man­ager, Norte Fluminense, EdF
Tuesday, February 21:
First half the morning session encompasses a closed user section and generator roundtable with associated presentations by owner/operators. Siemens Energy's program follows the refreshments break at 10 a.m. and runs until lunch at noon.
PSM is at the podium for the entire afternoon.
Wednesday, February 22:
Inlet and exhaust and compressor roundtables and their associated user presentations run from the opening bell to the break at 10 a.m. The rotor and hot-gas section roundtables complete the morning program.
Mitsubishi Power is at the podium for the entire afternoon.
Thursday, February 23:
Morning-only program features combustor and auxiliaries roundtables before refreshments and the outage roundtable following. Conference concludes at noon.
Useful Conference Links