The 501F fleet was recognized by peers with five Best Practices awards in the 2018 judging. The annual program, sponsored by CCJ, has as its primary objective recognition of the valuable contributions made by owner/operator personnel to improve the safety and performance of generating facilities powered by gas turbines. In this section, 501F plants share their methods and procedures for continual improvement in the areas of safety, predictive analytics, O&M, and water management.
If you're behind in your reading, note that the 2018 best practices for aeroderivative plants were presented in earlier in the year. The Best of the Best award recipients were saluted more rec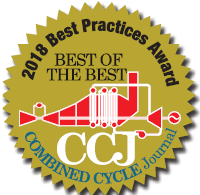 ently include two more 501F plants (Ontelaunee and Tuxpan):
AMP Fremont's transparent wall and curtain protect staff from chemical hazards
Cramped quarters in the water-treatment building at this 2 × 1 501F-powered combined cycle, home to the demin plant and chemical injection skids, created an unintended safety hazard because of the caustic and acid required for regeneration of mixed-bed resin. While the high-pressure chemical injection systems were equipped with flange shields, an unsuspecting person entering that space could, in the event of a leak, be sprayed with caustic or acid.
Among the proposed solutions not recommended by the safety committee were signage and relocation of the chemical skids. The use of heavy protective curtains also was evaluated, but personnel thought they could create another hazard: In the event of a leak, the curtains might prevent operators from seeing the spray in time to avoid walking into it.
Fremont's maintenance team proposed the solution selected: see-through chemical-safe curtains for the entryway and an enclosure of transparent Plexiglas® panels to provide an unimpeded view of the skids (photo). The best part of the plan was that personnel protection was assured for only about $2000 in labor and materials.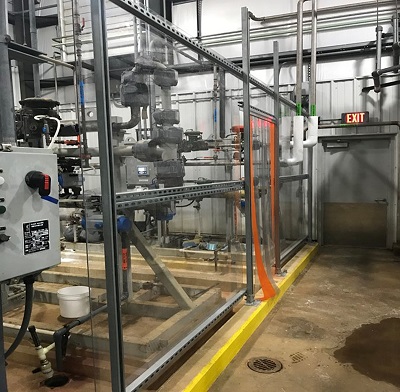 Fremont Energy Center, Fremont, Ohio, is owned by American Municipal Power Inc (AMP) and operated by NAES Corp. Plant manager is Craig Bonesteel.
Safety underpins Dogwood's approach to predictive motor maintenance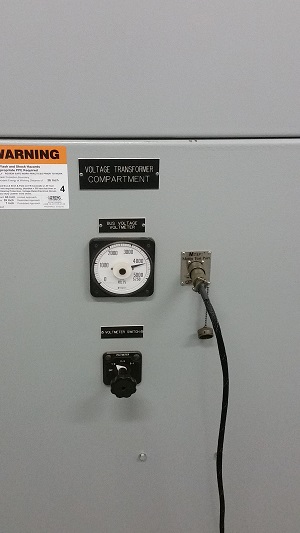 Historically, a contractor has performed the testing necessary to capture the online and offline data required. To do this, the vendor would open the motor feeder cubicle to connect test leads and then leave that cubicle open while the motor was started to permit data collection.
The contractor was required to follow NFPA 70E requirements, but even when wearing arc-flash protective clothing, he could not safely connect the leads necessary for online testing to the medium-voltage bus. The voltage was monitored at the cubicle being tested using a test cart and multiple cables strung throughout the area. Because of the electrical hazards, the contractor had to wear NFPA 70E gear while collecting data on a laptop.
To address the challenge, Dogwood implemented PdMA Corp's MTAP technology for testing LV and MV equipment. It uses current transformers (CT) and potential (voltage) transformers (PT) to reduce hazardous currents and voltages to levels that meet OSHA and NFPA 70E requirements.
The safety system was installed on each MV motor covered by the plant's six-month predictive maintenance plan—one MTAP to monitor current, another to monitor bus voltage. This upgrade protected contractor personnel from electrical hazards. Each MTAP was mounted to the cubicle door, allowing data collection by simply plugging the test lead into the receptacle (photo).
Installation of the MTAPs allows the simultaneous collection of data from multiple devices at multiple locations without requiring equipment isolation. This saves money by reducing the number of contractor visits required because of plant conditions. Plus, nuisance traps have been reduced because cubicle doors remain closed during the procedure.
More benefits attributed to MTAP technology: (1) Data can be collected by one person and in only five or six hours compared to a full day previously. (2) Having specific test points with the CTs and PTs permanently mounted assures data are reliable and repeatable.
Dogwood Energy Facility, Pleasant Hill, Mo, is owned by Dogwood Power Management LLC, the City of Independence, Missouri Joint Municipal Electric Utility Commission, Kansas City Board of Public Utilities, and Kansas Power Pool. It is operated by NAES Corp. Plant manager is Steven E Hilger.
Reducing turbine lube-oil varnish potential at Hobbs
Hobbs Generating Station's combined cycle is equipped with two M501F gas turbines and a D11 steam turbine. The GTs have 5000-gal lube-oil reservoirs, the steamer a 3600-gal tank. After eight years of service, the varnish potential of GT lube oil, based on the Membrane Patch Colorimetric Test (MPC) results, ranged from 46 to 50, the ST fluid was more than 20.
Plant's goal was to reduce the varnish potential and safely extend the life potential of these reservoirs, thereby deferring the cost of replacement oil to coincide with a future planned outage.
Working with Hilliard Corp's HILCO Div, plant personnel and lube-oil experts developed a plan to recover the reservoirs to acceptable varnish-potential levels as quickly as possible to prevent further oil degradation and not disrupt Hobbs operations. The solution was to treat the reservoirs by using a temporary, portable oil-conditioning unit with a remediation dosage of dry-resin ion-exchange media in a kidney-loop arrangement.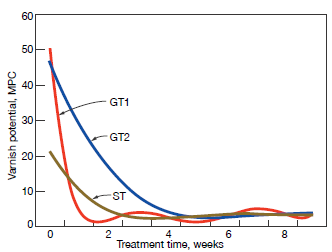 Concurrently, Hobbs staff repurposed HILCO oil conditioners no longer required by a sister plant to maintain low varnish-potential levels going forward with a much smaller amount of ion-exchange media once the higher-capacity conditioning unit had removed the bulk of the varnish.
Results were immediate and impressive. After only 24 hours of operation of the bulk treatment conditioner on GT1, a substantial improvement in the appearance of the oil samples was observed. Varnish potential was reduced from 50.5 to 28.3 MPC. Similarly, after GT2 had one of the 3.5-gpm repurposed oil conditioners hooked up for 24 hours, samples showed the varnish potential had been reduced from 46.1 to 34.9 MPC.
Long-term results: During the eight-week monitoring period, the varnish potential on GT1 turbine lube oil was reduced from 50.5 to 3.7 MPC, on GT2 from 46.1 to 3.8 MPC, and on the steam turbine from 21 to 2.7 MPC (figure).
Lea Power Partners LLC, Hobbs, NM, is owned by Western Generation Partners and operated by Consolidated Asset Management Services (CAMS). Plant manager is Roger Schnabel.
How State Line's cooling tower operates in extreme cold without freeze-up
Operating cooling towers can be problematic in extremely cold weather, when the minimum amount of cold-air cooling exceeds heat-transfer requirements and starts to affect the plant cycle. Compounding this problem, ice can form on the outside of the tower and, if left unchecked, can accumulate, possibly causing structural damage, safety hazards, and perhaps even a plant shutdown.
To prevent ice-related issues, State Line personnel came up with a simple but effective solution. Perhaps the best analogy is the cover semi drivers put on the front of their rigs in extreme cold. These "winter fronts" reduce the amount of cold air entering the engine compartment to maintain the optimum operating temperature.
This same principle was adopted for the State Line cooling tower. Pipes were installed longitudinally down both sides of the tower, along horizontal fiberglass members. When temperatures are very low, warm water is run through these lines at circulating-water pressure, to provide an additional curtain of warm water and prevent ice formation. Since implementation, the plant has not experienced an outage caused by cooling-tower icing.
State Line Power Plant, Joplin, Mo, is owned and operated by Empire District, a Liberty Utilities company; Westar Generating Inc is a co-owner. Plant manager is Brian Berkstresser.
Chlorine dioxide bests bleach for organics control at High Desert
High Desert Power Project, a 3 × 1 501F-powered combined cycle, uses a zero-liquid discharge system to process cooling-tower blowdown for recycle. The ZLD system incorporates microfiltration, softening, two stages of reverse-osmosis concentration, forced-circulation crystallization, and a centrifuge for crystallizer solids removal. The plant's desert location dictates the use of multiple makeup water sources of varying quality, making microbiological and organics control challenging.
The facility historically used bleach to control organics in the cooling-water system, but the existing bleach feed system was unreliable. Erratic oxidant feed impacted ZLD-system performance and caused disturbances in the cooling-tower blowdown system, wasting time and money.
To achieve good results, free-chlorine concentrations often exceeded 1 ppm. Performance was mixed using bleach: Plate counts were acceptable, but sessile populations were high, indicating the presence of a highly insulating biofilm.
Extensive research convinced plant personnel to replace bleach with chlorine dioxide. The biocide supply system selected, a turnkey solution from Nalco, uses sulfuric acid and the chemical company's Purate™ to make chlorine dioxide. Use of chlorine dioxide reduced RO membrane cleanings, improved cooling-tower appearance, improved reliability in biocide application, helped optimize manpower requirements, reduced chlorides, reduced corrosion potential in the condenser, and lowered the total cost of operation.
The new system runs reliably and the proper concentration of oxidant is applied consistently. Chloride loading on the ZLD plant was reduced by at least 15% and microbial monitoring shows good control of both planktonic and sessile bacterial populations. The tower is consistently cleaner. Plus, RO and microfilter membrane cleanings have been halved. Finally, the use of chlorine dioxide is less expensive than bleach in terms of total operating cost.
High Desert Power Project, Victorville, Calif, is owned by Avenue Capital and operated by NAES Corp. Plant manager was Claude Couvillion at the time the chlorine dioxide project was implemented. Victor Barron is the current plant manager.